The 'Last Jedi' Poster Will Give You Chills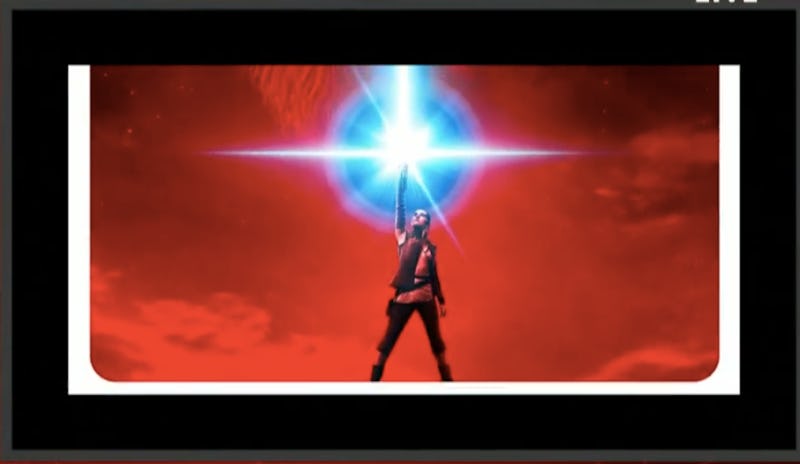 Walt Disney Studios
You were already excited, and now you're hyperventilating. Who wouldn't be? The Star Wars: The Last Jedi poster just dropped and it's incredible. Whatever your feels about the second installment of the Star Wars sequel trilogy, if you have two functioning eyeballs and a pulsing heart in your chest, I defy you not to get at least a little bit choked up. The figure at the center of the image is of course our heroine, Rey, while in the background, we can see halves of the faces of both Luke Skywalker and Kylo Ren, perhaps suggesting the two ways Jedis can go — toward the dark side of the Force or toward the light side of the Force.
When we last left her, all the way back in 2015's Star Wars: The Force Awakens, Rey was on the planet Ahch-To, presenting Luke with a lightsaber. If you'd been concerned that the trilogy was planning to undo its vision of female strength by letting Luke fight Rey's battles, it appears (at least from the image) that you're wrong. Because while the figure is small, it's dressed in Rey's trademark mid-length pants and two part leather belt. The pose is not not funny though, because it's reminiscent of one seriously masculine figure in pop culture history.
I'm talking, of course, about none other than Prince Adam's alter ego, He-Man. If you've watched the animated series, you'll remember that Adam transforms into He-Man by lifting up his Power Sword and stating "By the power of Greyskull," and once the transformation is complete, exclaiming, "I have the power!" I'm not the only one who's noticed this, as Twitter suggests:
Still, is this simply a coincidence on the Star Wars team's side? Or is it intentional — suggesting that, much like Prince Adam, Rey is about to undergo a transformation of some kind? It seems likely to me. Watch this space and pencil Dec. 15 in your diary. From the looks of things, this could be one of the most epic Star Wars movies yet.