This Couples Therapist Says You Should Stop Assuming Your Relationships Are Monogamous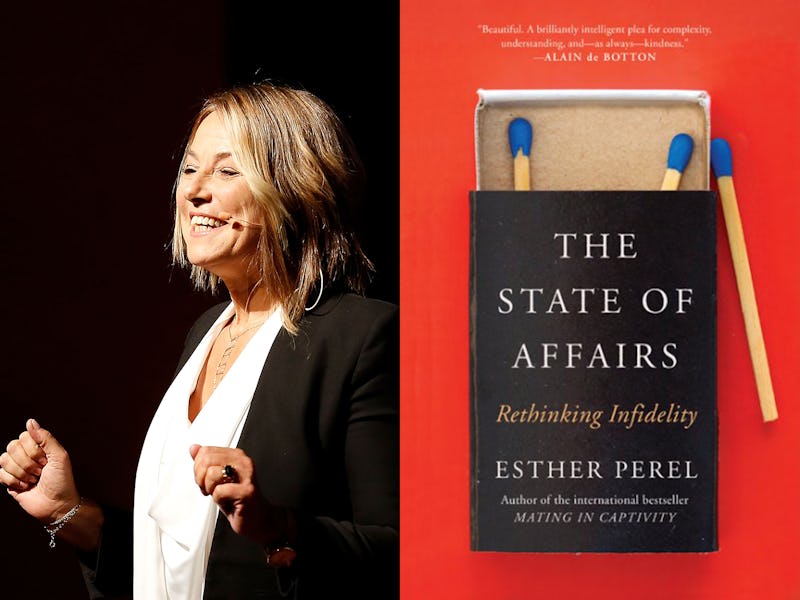 Kirk Irwin/Getty Images Entertainment/Getty Images
For all that we might wish otherwise, the risk of being cheated on in a relationship never goes away entirely. Where there are rules, there are always possible temptations and transgressions. It's a reality couple's therapist Esther Perel has seen throughout her three-plus decades of work: There are no completely "affair-proof" relationships. She could — and in fact did — write the book on it.
Released earlier this month, The State of Affairs: Rethinking Infidelity explores why people cheat, how betrayal impacts relationships, how to minimize the risk, and other related issues. Perel brings examples from her office to the page, weaving in the stories of her real-life patients. This approach makes for a fascinating and sometimes gut-wrenching look at the complexities of human nature and sexuality.
Because Perel examines the roots of affairs and the context in which they occur, she does not paint the unfaithful as universally bad or the betrayed as blameless. That fact alone may put some readers off her work, but the nuances matter and make you think. The State of Affairs isn't meant to wage war on fidelity or monogamy; it's a book that has the potential strengthen relationships by encouraging readers to reflect on and discuss topics they might otherwise avoid.
The State of Affairs by Esther Perel, $18, Amazon
Perel highlights the paradox of monogamy being the "default" relationship model for many people around the world even as infidelity exists across cultures. By breaking down different forms of betrayal, she shows how even those of us who think we're monogamous may not actually be. As she explains it, we're not having the conversations we need to be having in order to get what we want.
"Today, you cannot assume monogamy," Perel tells Bustle. "You need to negotiate it… It's a conversation."
Having those conversations, even with ourselves, might be challenging, but they are needed. What's waiting on the other side, Perel says, is "a more liberal, a more democratic, a more equal, a more individually-centered culture or culture of relationships." That means different things for different people. Whereas some may need to clarify expectations and boundaries with their partner, others may want to explore alternative relationship models like being consensually non-monogamous.
Perel doesn't push for any one particular model, and in fact, she shows that affairs can happen in any type of relationship. Rather, she argues that monogamy should be "opt-in" so that people can more openly and honestly communicate their needs and wants. After all, she firmly believes that "the quality of our relationships determines the quality of our lives."
"The quality of our relationships determines the quality of our lives."
With that being the case, Perel works with a much wider range of issues than simply infidelity. Couples come to her to talk about everything from sexlessness in their marriage to undergoing IVF to out-earning their partner. Some of these topics get their chance to shine in the second season of Perel's podcast, Where Should We Begin?. The series originally launched in May 2017, and Season 2 brings eight more episodes. Each one will give listeners a chance to hear what goes on in Perel's office with real-life couples.
Called "The Legacy of Secrets," the new season will tackle revelations surrounding a range of life struggles, from violence to vulnerability. Perel calls it "incredible" and "more real almost" than Season 1 in that the people come from across the United States and are part of various socioeconomic and racial groups. Perel found the diversity of material "very rich," especially after focusing for so long on infidelity and sexuality.
She hasn't put those topics behind her, of course. The State of Affairs is still keeping Perel busy, especially given that it recently hit the New York Times best seller list. Nevertheless, she has found time to consider directions for her next book. One topic of particular interest to Perel is masculinity today.
"What I work on is helping people navigate the complexities and the challenges of modern relationships at home and at work," Perel says. "I think for the lives of women to change, men need to be given an opportunity to rethink what the identity of a man in this day and age is about. So that's where I'm going."
In the meantime, she will continue challenging people to work on their relationships, whether or not they are her patients. To do so, she has been making new tools available on her website, including online workshops. These serve what she calls the "and now what?" that can stem from reading about the human behavior presented in her books.