The Story Behind T. Hiddle's T. Swift Tank Top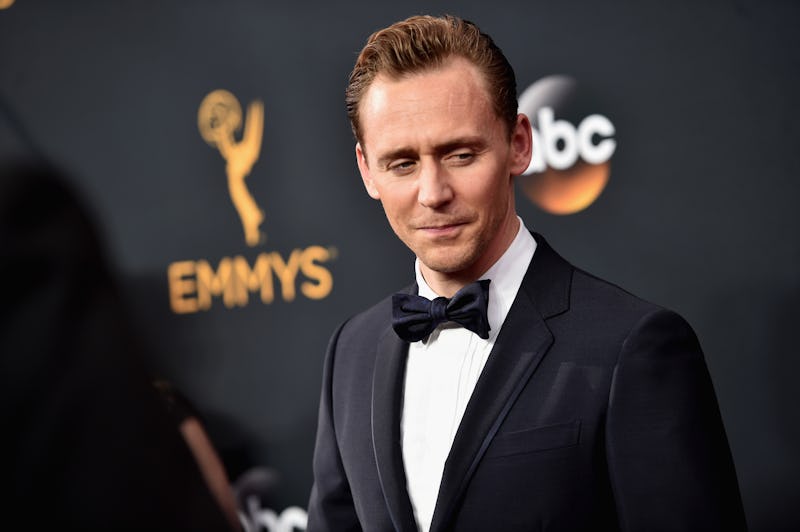 Alberto E. Rodriguez/Getty Images Entertainment/Getty Images
It is easy to sit back and come up with wild explanations for our favorite celebrity drama, because sometimes our imaginations are far more exciting than the truth. That's not always the case, but when it comes to the epic fling of Tom Hiddleston and Taylor Swift, according to the actor himself, a lot of what we saw was just simple, burgeoning love that didn't work out. In a new GQ cover story, Hiddleston reveals the story behind his "I <3 T.S." tank top —one of the most-talked about moments involving the ex-couple — and much like their relationship, it wasn't planned... at all.
When I first saw those photos of Swift and Hiddleston kissing on a beach, I immediately thought it was a publicity stunt, because celebrities aren't real people that do real things, right? In the GQ piece, Hiddleston confessed,
"Taylor is an amazing woman ... She's generous and kind and lovely, and we had the best time ... Of course it was real."
Hiddleston then went on to explain the hoopla surrounding those now-infamous photos of him, a grown man, wearing a white "I <3 T.S." tank top while frolicking on the beach:
"The truth is, it was the Fourth of July and a public holiday and we were playing a game and I slipped and hurt my back. And I wanted to protect the graze from the sun and said, 'Does anyone have a T-shirt?' And one of her friends said, 'I've got this' and we all laughed about it. It was a joke."
You see, everyone? It was just a fun joke amongst two people who were crushing on each other!
But he did open up even further about how difficult it is to try to date and live your life when photos are taken out of context. Can you imagine if someone was taking pictures of you and a date one night? There's no doubt some mortifying shots would be in there, but in Hiddleston and Swift's case, they were printed all over the world.
He said,
"A relationship exists between two people. We will always know what it was ... Nobody had the context for that story. And I'm still trying to work out a way of having a personal life and protecting it, but also without hiding. So the hardest thing is that that was a joke among friends on the Fourth of July ... I was just surprised that it got so much attention. The tank top became an emblem of this thing."
Aww, Hiddles! Now that he explains it, I can definitely see how the persistent pressure could have caused their flourishing summer fling to completely stall out of nowhere. He didn't go into too much detail, but one gets the sense that the limelight was a huge reason. He said,
"I only know the woman I met. She's incredible ... A relationship in the limelight… A relationship always takes work. A relationship in the limelight takes work. And it's not just the limelight. It's everything else."
At least after it all, Hiddleston seems to have no bad feelings toward Swift. It sounds like he just wanted a regular relationship. But, alas, the world wasn't ready to let that happen.