Universal Studios Launched A 'Stranger Things' Menu & The Photos Are Deliciously Creepy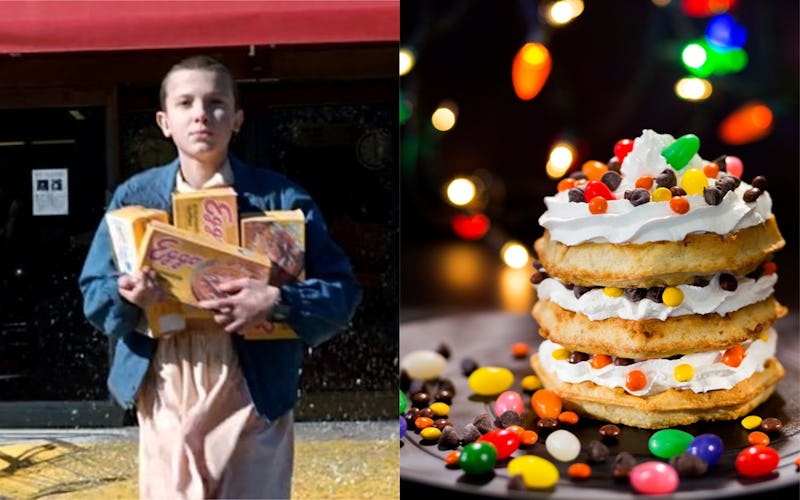 Netflix; Universal Studios
As a person whose blood is about 97 percent Eggo waffle, I am pleased to announce that the Stranger Things menu at Universal Studios' Halloween Horror Nights is a true testament to everyone's favorite breakfast, and Eleven's undying love for them. In fact, the menu visits all kinds of Stranger Things themes, and even features some drinks that are spooky as heck. Now you can relive the horror of being chased by a Demogorgon, and eat that horror, too!
As true fans of the both the Netflix show and the theme park already well know, Halloween Horror Nights for 2018 will start Sept. 14 an run through Nov. 3 — and this year, its Orlando, Universal Hollywood, and Singapore locations will feature an entire Stranger Things-themed attraction, in the form of a maze that guests can venture into and relive storylines from the actual show. According to a press release, you'll be able to visit Hawkins National Laboratory, the Byers home in all of its manic Christmas light glory, and even — le gasp — The Upside Down.
As the kids of Hawkins, Indiana well know, running all over your newly sci-fi-esque town can work up quite the appetite. Luckily, Universal Studios has an entire slew of new menu items at the ready, most of which would make El proud.
Triple Decker Extravaganza
According to Universal Studios' blog, this will be available at the San Francisco Bakery, and features "three waffles filled with layers of whipped cream, chocolate, peanut butter morsels and jelly beans" — basically if El made her waffles, then dumped an entire Halloween candy haul on top of it. The DREAM.
Christmas Tree Light Cupcakes
The iconic Christmas lights are now more edible than ever, thanks to these jelly beans topping a chocolate cupcake. Also good for decoding messages from kids stuck in alternate planes of existence, if you manage not to eat the whole thing in one bite.
11 Mini Donuts
A (super creepy!!) testament to El, these 11 mini donuts are topped with red frosting, and can be made with either powdered sugar or cinnamon donuts, according to Universal Studios.
Syrup & Waffles Drink
Also inspired by El's love of Eggos, this frozen drink is a features a "blend of flavors," according to Universal Studios, and comes with itty bitty waffles on top.
For those of you looking for drinks that pack a bit more of a punch, Universal Studios also features three signature drinks — the Totally L.I.T. (Long Island Iced Tea), Wicked Rad Punch, and Gnarly Twist — which all come in Halloween Horror Nights souvenir cups, complete with blinking lights. Not Stranger Things-themed, but worth knowing about, if you're about to go somewhere to get intentionally scared out of your gourd.
You can check out the rest of the food lineup for Halloween Horror Nights on the Universal Studios blog here; it features several other desserts and more savory options you'll definitely want to check out either before or after you venture into the Upside Down. Whatever you do, don't forget to bring Farrah Fawcett spray — four puffs or bust.