The 'Stranger Things' SAGs Speech Was Incredible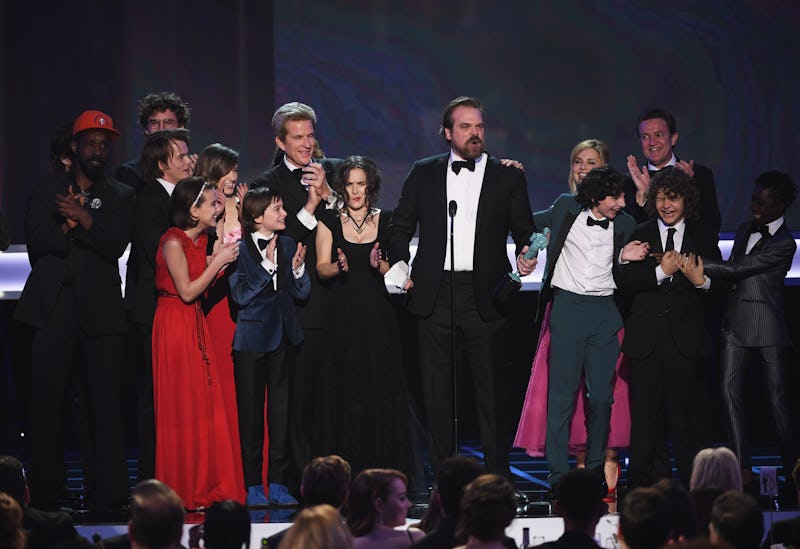 Kevin Winter/Getty Images Entertainment/Getty Images
The Stranger Things cast had a hell of a celebration at the 2017 SAG Awards when they won the award for Outstanding Performance by an Ensemble in a Drama Series. The cast of tweens and adults beat out the casts of Westworld, Game of Thrones, Downton Abbey, and The Crown to give a rousing speech that had everyone on their feet. At the SAG Awards, Stranger Things' David Harbour gave the speech that took a stand against Donald Trump in a way that perfectly suits the sci-fi Netflix series.
Harbour, who plays Chief Jim Hopper in the series, delivered the acceptance speech on behalf of the entire Stranger Things cast, and spoke passionately about actors and their ability to change the world with their performances. "In light of everything that's going on in the world today, it's difficult to celebrate the already celebrated Stranger Things, but this award from you who take your craft seriously and earnestly believe, like me, that great acting can change the world," Harbor said.
As the rest of the cast celebrated behind him, Harbor continued his call to action:
"It is a call to arms from our fellow craftsmen and women to go deeper, and through our art to battle against fear, self-centeredness and exclusivity of our predominantly narcissistic culture and through our craft to cultivate a more empathetic and understanding society by revealing intimate truths that serve as a forceful reminder to folks that when they feel broken and afraid and tired, they are not alone. We are united in that we are all human beings and we are all together on this horrible, painful, joyous, exciting, and mysterious ride that is being alive."
Harbour then turned his attention to Trump and provide a message of hope in the vain of Stranger Things, pledging to thunderous applause, "We, 1983 midwesterners, will repel bullies, we will shelter freaks and outcasts, those who have no home. We will get past the lies and we will hunt monsters. And when we are at a loss amidst the hypocrisy and the casual violence of certain individuals and institutions, we will, as per Chief Jim Hopper, punch some people in the face when they seek to destroy the weak, the disenfranchised, and the marginalized!"
Harbour's message will no doubt reach the ears of the President. Let's hope he listens close enough to see that Harbour refused to mention him by name.