Taco Bell Launched A MASSIVE Scholarship Program That Doesn't Care About SATs or GPAs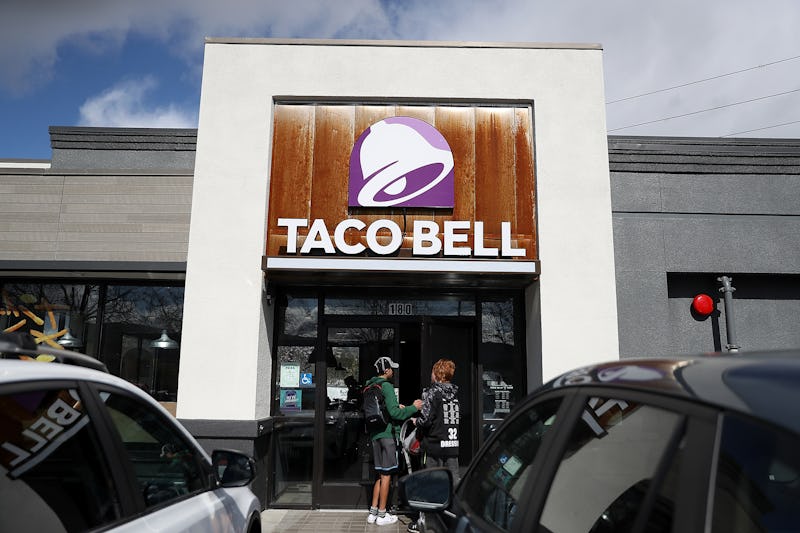 Justin Sullivan/Getty Images News/Getty Images
It might sound like a joke about Jacksonville from The Good Place, but Taco Bell is offering the Live Más Scholarship. (Can't you see Jason telling a long, circular story about applying for it?) Seriously, though, as odd as it may sound at first, Taco Bell is giving away a ton of money in college scholarships, and they aren't relying on SAT scores, GPAs, or essays. Instead, you have to win a Crunchwrap Supreme eating contest. I jest! I jest! It's actually much easier than that to apply, but feel free to eat as many Crunchwrap Supremes as you wish.
The Live Más Scholarship comes via the Taco Bell Foundation, the fast food chain's non-profit "focusing on serving youth and community needs." (They've also partnered with the Boys & Girls Clubs of America.) The foundation plans to give away $4 million in total this time around, with the scholarships ranging from $5,000 to $25,000. The $4 million is divvied up amongst three groups of applicants: $1 million to new applicants, $2.25 million through a renewal program for previous recipients, and $750,000 for Taco Bell employees. The foundation plans to award $21 million in scholarships by 2021.
To apply, students must submit a two-minute (or less) video about their passion. According to the scholarship site, "It could be a short film, animation or just a simple testimonial. This is not about how well you can make a film — we just want you to show us your passion and explain why you should be considered for a Live Más Scholarship." More information, such as age requirements, can be found here. The scholarships are only available to U.S. residents.
By asking for a video rather than looking at grades or test scores, the Taco Bell Foundation hopes to support students who aren't interested in areas that are often awarded scholarships like academics and sports. The first scholarships were awarded in 2016, and since then the number of applicants and amount of money given away has increased.
If you're wondering why Taco Bell would do this, well, it's a good thing to do, and doing good things makes companies look good. It's a way of advertising while doing something positive and affecting the way people think about the brand. According to Fast Company, Taco Bell was looking for something different. "We were going through the ideas, all of a sudden these guys got up from Bow & Arrow [agency] and the opening board was 'Why have scholarships gone to just academics and athletes?'" former Taco Bell CEO Brian Niccol told the site. "And it just hits you how true that is. Many people who make a real impact on the world don't fall neatly into those two boxes."
If you or someone you know wants to apply for the scholarship, be sure to read all of the requirements and terms and conditions first. The application period runs from now (November 12, 2018) to February 21, 2019. Recipients will be announced on or around May 15, 2019.