The 'The H-Spot' Argues That Female Happiness Is Political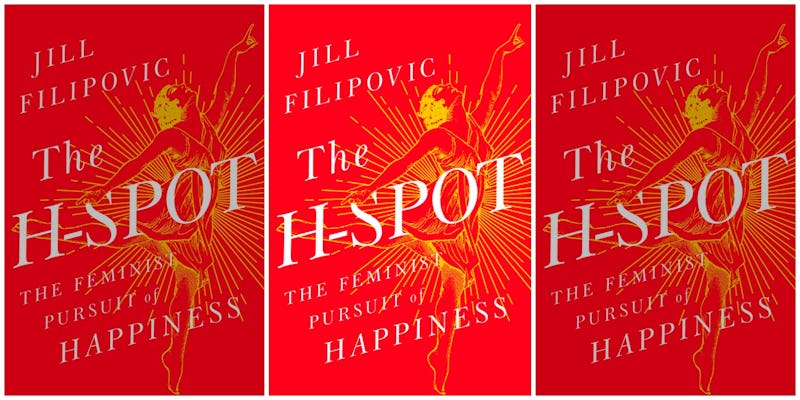 In 2017, it's finally cool to be a feminist, and whether the current administration likes it or not, women's issues continue to be at the forefront of political, cultural, and social conversations. In her timely book The H-Spot, author and columnist Jill Filipovic makes the radical case for women's happiness to be included in the greater discussion that often revolves around reproductive rights, equal pay, and sexual violence. When women's contentment is the end goal, she argues, our policies, laws, and culture can change in meaningful ways that will finally meet the needs of women and the demands of feminists around the country.
Throughout history, women across different races, class, and sexualities have played the same part: serving and sacrificing for others. For centuries, it has been a gender relegated to a secondary role, one that puts women's needs behind all others, including families, partners, children, employers, and even communities. In The H-Spot: The Feminist Pursuit of Happiness, Jill Filipovic, a contributing opinion writer for the New York Times and a regular columnist for Cosmopolitan.com, strives to prove that there may be "no one definition of womanhood, no singular experience of pleasure seeking, and no individual thing that will bring happiness for all women, but there are a great many commonalities, and a great many ways to improve the status quo."
And, according the author, it all starts with making joy a political priority, especially for women who it is so regularly denied to.
The H-Spot by Jill Filipovic, $16.51, Amazon
Going all the way back to the Declaration of Independence, which made "the pursuit of happiness" a political promise, and moving forward through history covering everything from Puritan sexual ethics to the free love movement to the modern American feminist fight, The H-Spot seeks to find out what women want and what women need to be happy, and what exactly is standing in their way. A wonderfully intersectional work that includes the voices of many, including the those regularly disenfranchised and silenced due to race, class, and sexuality, Filipovic uses the stories of American women across the country to argue one main point: if we shifted our policy focus to happiness itself, we would be able to solve some of our biggest political issues, from body autonomy to equal pay to fair maternal leave, and more.
According to Filipovic, "Women today live in a world of unfinished feminism, where we're told we're equal but see our basic rights up for grabs, where we're told to just push harder at work, or recognize we can't have it all, or marry Mr. Good Enough." The solution to this, The H-Spot asserts, it not a movement centered around equality seeking, but rather the pursuit of happiness.
This is what it looks like: