Music Is Freedom In 'The Handmaid's Tale'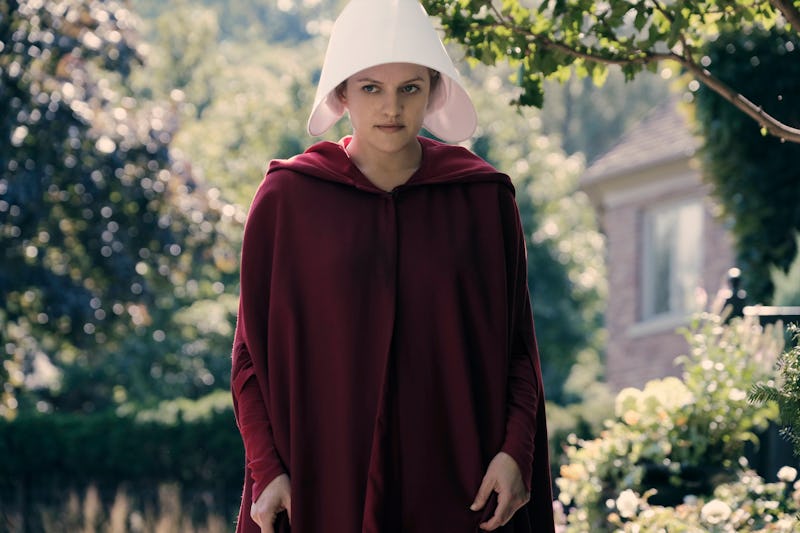 George Kraychyk/Hulu
If you were to compile its music onto a mixtape, you would get the distinct impression The Handmaid's Tale is feminist: it's brash, it's proud, and it's dedicated to giving a voice to women who are silenced. In The Handmaid's Tale, the soundtrack equals empowerment, freedom, and a window into more liberating times. In this world, music gives a voice to the voiceless.
Spoilers for The Handmaid's Tale ahead. In the fictional republic of Gilead, the theocratic state that has risen up in the ashes of the United States of America, there is very little music. But the series capturing this world offers music in a few choice instances. Firstly, music plays over most of the series' flashbacks, bringing us back to the better times before Gilead became the new U.S. Other times, we hear music non-diegetically, meaning the songs are the soundtrack to the events going on or they serve as a kind of inner monologue for Offred.
In one moment of pure joy, Simple Minds' "Don't You Forget About Me" plays as Offred walks outside to meet her companion, Ofglen, in a moment in which the handmaid feels almost invincible. It's not difficult to understand, after watching Offred endure a world that forces her to kowtow to male authority figures, that she aligns internally with liberating song.
What's noticeable about the non-diegetic music here is that it is pop music from the '60s and '80s. At the end of the first episode, the smash cut to the credits starts with Lesley Gore's girl power anthem "You Don't Own Me." After spending an hour in Offred's world in which she is trapped is a house that is not her own, living in a body that is not entirely her, and thinking thoughts that are not entirely hers but tinged with government propaganda, Gore's song about resisting the man who attempts to control her with his love becomes an emotional release for us at the credits roll and viewers wrap their heads around Offred's growing rejection of her life.
There's a flashback Offred and her friend Moira attend a protest after having their bank accounts frozen and their jobs taken away. As the protesters' chants fade out, a vocals-only version of Blondie's "Heart of Glass" fades in. The original song is an synth-laden love song where the music somehow distracts you from the words Blondie frontwoman Debbie Harry is saying. With no music, we hear Harry's melancholy soprano stretch out, telling us about a love that went wrong, faded, and left her feeling fragile. Pair that with scenes of a militarized police force shooting into a crowd of protesters as Offred and Moira run for their lives and you begin to feel the love between citizen and government breaking down. You start to mourn the loss of the personal freedoms that were stripped from these women. Your heart breaks.
The diegetic music that we hear in flashbacks gives us a specific portrait of Offred in her previous life. This flashback music also gives us a concrete time frame that is also our recent past; it gives The Handmaid's Tale an eerie feeling of prescience. This woman could easily be any Millennial woman we know right now — maybe she's actually you? — and we know this through the music she listens to.
At a cookout, SBTRKT's "Wildfire" (a song released in 2011) plays as Moira and Offred joke around and talk about college papers. In the third episode, "Late," Offred listens to Peaches' raunchy electropop hit "F*ck The Pain Away" while she jogs down the street. Sure, it's a good song to jog to, but the song itself is a subversive, sexually-explicit, tongue-in-cheek ode to female sexuality.
Perhaps the most heartbreaking use of music in The Handmaid's Tale involves Bob Marley's "Three Little Birds." Having just given birth to a little girl, handmaiden Janine breastfeeds her baby and gently sings Marley's comforting song. In the darkest of times, the song is a haunting reminder of the hopeful that once existed but has since been stamped out with sheer force. Listening to Marley's song is this context expresses how futile it feels to hope for goodness in a world like the one Janine lives in. The song gives depth to her struggles with her non-motherhood: she's just given birth to a child that isn't her own yet she yearns to be that protective nurturing figure because it comes naturally to her.
The music in The Handmaid's Tale is ultimately here as a cautious reminder to us all to stay awake and aware; freedom is a precious thing.