'This Is Us' Is Airing A Special Episode After The Super Bowl & Fans Aren't Ready For What's To Come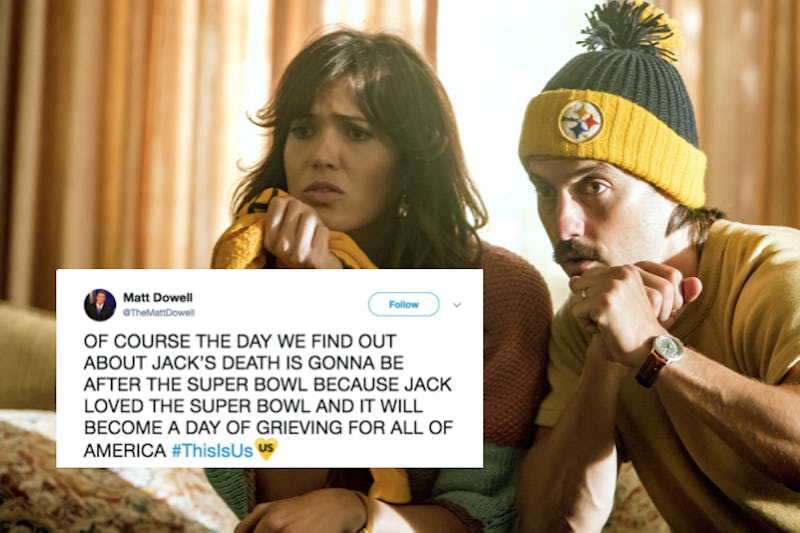 NBC
In a case of the most perfect, gut-wrenching, devastating timing, This Is Us is going to have a Super Bowl episode. And, in a classic This Is Us move, it will seemingly be the episode in which Jack's cause of death is finally revealed. Of course, fans are totally not ready for it. Sure, it may be two seasons and a year and a half in the making, but how can one ever be ready to watch Jack die? SPOILERS ahead for the Jan. 23 episode.
It looked for a while during the Jan. 23 episode that Jack's death would come quietly in the night while he slept thanks to a faulty AF slow cooker catching the kitchen on fire. But, that's not the way Jack goes down. He does not go gently into the good night. He goes down battling a literal blaze. At least, that's what the promo for the post-Super Bowl episode hints to. The official account for the show tweeted a video of the super special episode stating that "this is the episode," aka the one where Jack dies and we all dissolve into a puddle of tears.
The promo video even promises that "all of your questions will be answered." Considering that most people's number one question is, "How did Jack die?" it seems safe to assume that's the big issue that will get resolved in the Feb. 4 episode.
Of course, it's utterly cruel that fans will have to watch Jack die on the real Super Bowl Sunday, considering that day is also when Jack died on the show and it was one of his favorite days. It's TOO REAL, OK? I'M UNWELL. (At least the Steelers won't be playing in the 2018 Super Bowl. That would be. too. much.)
Unsurprisingly, I'm not the only fan who can't handle this lining up of events.
Fans Are So Emotional About The Choice Of Air Date
I am ALL CAPS UPSET.
A Lot Of People Made Football Jokes
Jack would probably appreciate that.
But Mostly, No One Is Ready
How could you be?
Leave It To This Is Us To Make The Super Bowl Sad
This Is Us, ruining regular things — one episode at a time.
Speaking Of Which... Slow Cookers Are Banned From My Super Bowl Party, Mmkay?
Don't you dare.
And, then, as if this wasn't going to be emotional enough, get ready for even more tears. This storyline is a three-parter. Director and executive producer for This Is Us, Ken Olin tweeted,
"Everyone get ready for the next 3 episodes of @NBCThisisUs. Tomorrow night. Sunday night after the Super Bowl. And the following Tuesday night, February 6th. They are going to answer all your questions... and pretty much break all your hearts."
The first episode has come and gone to set up the cause for the fire. The Super Bowl episode will likely be the fire and Jack dying. And, possibly the third episode will be the next day as the family grapples with their huge loss. So, yeah, I would say that's all pretty heartbreaking.
In any case, though This Is Us is skipping Jan. 30, it will be back and probably sadder than every on Feb. 4, Super Bowl Sunday. The game is set to start at 6:30 ET, and most games last around three and a half to four hours, putting the This Is Us start time at around 10 or 10:30 p.m. ET. It's gonna be a long night, folks.
So, tune in after the game to get your heart broken by Jack, who died on his favorite day, in a super unlucky fire, because the world is cruel. But, on the bright side, at least you'll probably be surrounded by yummy Super Bowl snacks when it all goes down? It's the little things.