The 'To All The Boys I've Loved Before' Trailer Will Have Rom-Com Fans MAJORLY Swooning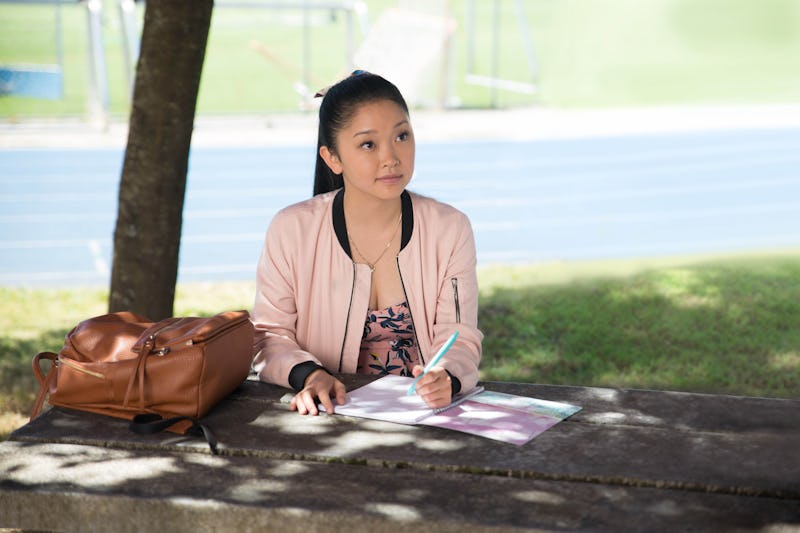 Masha Weisberg/Awesomeness Films/Netflix
Who doesn't have an embarrassing high school story or two? In the To All The Boys I've Loved Before trailer, which Netflix released on Thursday, July 26, protagonist Lara Jean (played by Lana Condor) has an embarrassment of riches — to say the least. And anyone who's ever had a secret high school crush (i.e. everyone), will feel embarrassed for and with her, when the delightful coming-of-age rom-com (based on Jenny Han's beloved 2014 YA novel) premieres on Netflix on August 17.
The hilariously cringeworthy moments begin for Lara Jean before she even sets foot through the doors of her high school. In the newly released full trailer, her dad (John Corbett) decides to bring up the dreaded talk about her "sexual health" as she's exiting his car for the first day of her Junior year. After handing his daughter an envelope containing condoms, he tells a mortified Lara Jean to not forget to have fun. Her hysterical response? "Yes, well I have a lot of rubbers for that ... specifically."
With that introduction out of the way, what we learn next about the teen in the trailer is that she writes letters "when I have a crush so intense I don't know what else to do" (in her words) and that said notes are her "most secret possessions." She has confessed her feelings on paper for five guys, most notably "Peter, the most popular guy in school" and "Josh ... but he's my sisters boyfriend." Awkward.
Lara Jean keeps these secret letters tucked away in her closet, of course, so in the video, she's understandably confused when Peter (AKA Mr. Popular, played by Meet the Fosters' Noah Centineo) approaches her at the school track and tells her "I appreciate it, but it's never going to happen." Cue her realization that Peter is — gasp! — somehow holding the letter in his hand, as he adds, "I think it really cool that you think I have golden specs in my eyes."
When Lara Jean sees Josh (yep, her sister's boyfriend, played by Israel Broussard) approaching with his letter in hand also, she does — what else? — but tackle the most popular guy in school and begins kissing him to create a diversion of sorts. After explaining to Peter that she had to make it look like she liked him so that "someone else" won't think she likes him, the pair agree to fake a relationship.
How did the letters mysteriously get mailed? Will Lara Jean's sister Margot (Pretty Little Liars' Janel Parrish) find out she has (had?) a crush on her boyfriend? Will real feelings develop? It's no wonder the To All The Boys I've Loved Before trailer ends with "P.S. FML". Poor Lara Jean.
Like most other fans surely will, Condor — who appeared in 2016's X-Men: Apocalypse but will make her first leading actress debut in this film — has said she can relate to her character.
"When I was in high school and even today, I always sometimes find myself not feeling like I belong or feeling that, if I'm myself, maybe people would judge me and not like me," the Vietnamese-American actress said in a June interview with Pop Entertainment at VidCon 2018. "I think that's such a universal fear ... you have to take a chance and be yourself, and the good people in life will respond to that. And those are the friends you actually want to have."
And if her secret feelings were ever revealed to a crush in real life? "I would've just pretended like it wasn't happening," she joked to Pop Entertainment. "Denial's always the best way to go."
Even if fans haven't exactly experienced the equivalent of having their diary published, so many people will be able to relate to the angst of keeping their crushes a secret during their already-awkward teen years.