Hurricane Jose's Trajectory Suggests It Might Spare The U.S. For Now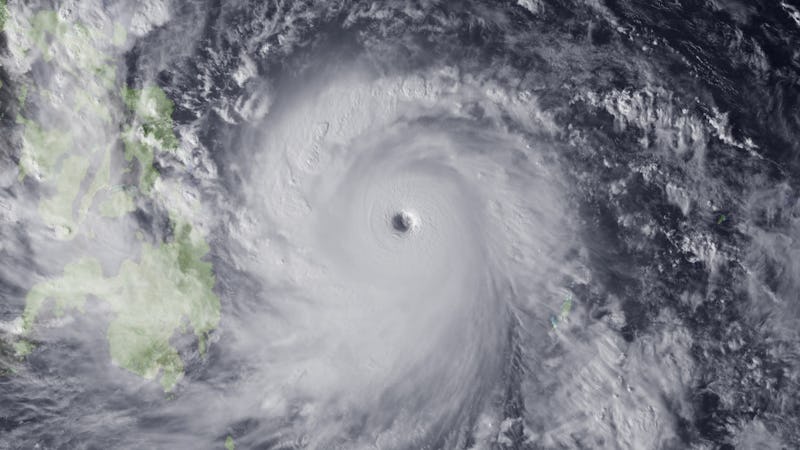 Handout/Getty Images News/Getty Images
Though it's still too early to say with certainty, early projections of the trajectory of Hurricane Jose suggest it won't make landfall. The National Hurricane Center (NHC) upgraded Jose to a Category 1 storm on Wednesday after hitting wind speeds of 75 mph. The storm is expected to continue gaining strength, ultimately reaching Category 3 or higher.
At 11 p.m. EST on Wednesday, Jose was approximately 925 miles east of the Lesser Antilles. "Jose is moving toward the west-northwest near 17 mph (28 km/h) and this motion is expected to continue for the next two days," reads the NHC's public advisory. It further states that "some strengthening" in wind speeds is expected within the next 48 hours.
Jose's forecast cone shows it going west near the northern coasts of the Dominican Republic, Puerto Rico, and Cuba but not directly hitting the islands. The Leeward Islands do currently fall inside Jose's trajectory — possibly being impacted on Saturday at roughly 8 p.m. EST — but there is a possibility the hurricane's path will change in the upcoming days. While it's close enough to bring another round of rain and wind to these islands, some of which were devastated on Wednesday by Hurricane Irma, Jose isn't so close to bring direct destruction, according to CNN. By Monday, the storm is expected to make its way into open ocean and possibly dissipate there.
Hurricane Jose was not the only storm gaining strength on Tuesday. Tropical Storm Katia was upgraded to a Category 1 hurricane by the NHC at the same time Jose was. Katia is currently in the Gulf of Mexico roughly 175 miles north of the Mexican city Veracruz. While no warnings or coastal watches have been set for Jose, a watch has been put in place in Mexico from Cabo Rojo to Laguna Verde.
The strengthening of Jose and Katia means there are now three active hurricanes in the Atlantic Basin, with the third being Category 5 Hurricane Irma. Irma is one of the most powerful storms to ever hit the Caribbean. So far, it's wreaked havoc and devastation in Barbuda, Puerto Rico, and French St. Martin. The storm comes just a little over a week after Hurricane Harvey ravaged the Texas Gulf Coast, particularly the city of Houston.
Florida, the U.S. Virgin Islands, and Puerto Rico have been put under a state of emergency by President Trump in response to Irma. It's still too early to tell whether Jose or Katia will hit the United States.