Winter Storm Stella Is Probably Headed To You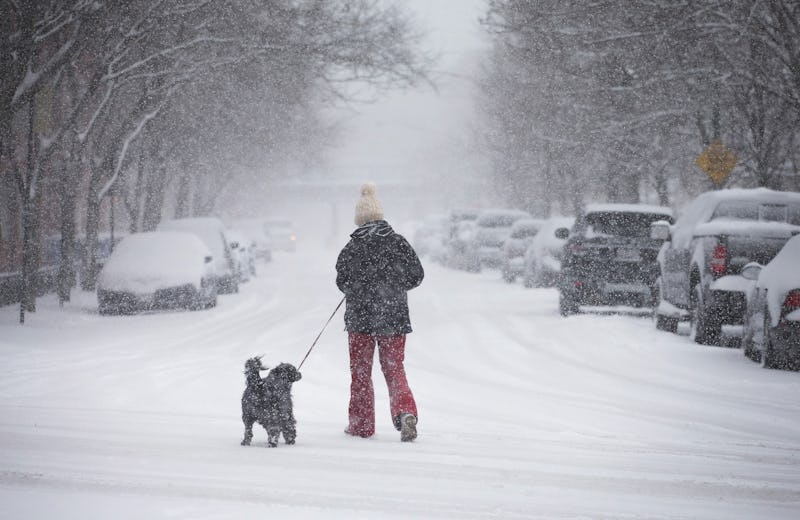 Scott Olson/Getty Images News/Getty Images
Winter Storm Stella has already brought Chicago's record lack of accumulated snowfall to an end, resulted in flight cancelations across the Midwest and Northeast, and generated blizzard and wind advisories from Maine to Kentucky. The storm is expected to intensify on Tuesday, with areas with the heaviest snowfall poised to receive up to 18 inches of snow. But as it makes its way east, leaving snow and cold temperatures in its wake, you might be wondering: What is Winter Storm Stella's trajectory? Where is it going, and where will it end?
The storm started Sunday, with snow falling in the Dakotas, before making its way down to the Great Lakes region. It has already hit Chicago and other parts of the Midwest — where it is expected to dump between 5 to 8 inches of snow — and is expected to hit Ohio on its way to the Northeast. Stella will likely arrive in the Northeast at some point Monday night or early Tuesday morning, with a powerful nor'easter expected to form off the Carolinas before continuing to develop up along the East Coast. (A nor'easter is essentially a macro-scale cyclone.)
The Weather Channel has reported that at the height of the storm, some time on Tuesday morning or early afternoon, the major cities on the Eastern seaboard — Boston, New York, Philadelphia, and possibly Washington, D.C. — could expect snowfall rates of 1 to 4 inches per hour. Philadelphia and its surroundings, however, may also start getting 8 to 12 inches of snowfall as early as Monday night.
Take a look at the following GIF to get a general understanding of where this storm is heading, and what areas will be most affected:
Over 19 million people live in places with issued blizzard warnings, including New York City and parts of northern New Jersey and southern Connecticut. More than 750 flights were canceled on Monday, according to USA Today — many due to current weather patterns in Chicago and the rest of the Midwest — and almost 1,000 Tuesday flights were also canceled. If the storm holds up through Wednesday, several airports in the Northeast risk canceling Wednesday flights as well.
New England can expect to experience heavy snowfall through Tuesday night, but while snow and strong winds are likely to persist the following day, they will probably have a reduced intensity. Unfortunately, even as the storm comes to a close toward the middle of the week, a second blast of arctic air is expected to subsequently hit the Northeast, so winter will not be making an immediate exit.