Kesha Spotlights An Invaluable Cause At The VMAs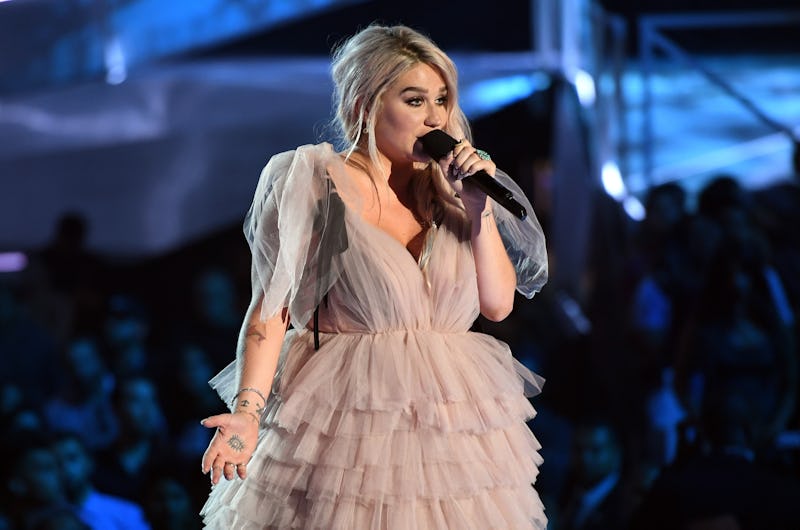 Kevin Winter/Getty Images Entertainment/Getty Images
After a tumultuous few years, Kesha finally seems to be in a truly good place, personally and professionally. At the 2017 VMAs, Kesha introduced Logic's performance of "1-800-273-8255," which is the number of the National Suicide Prevention Lifeline. As fans may know, Logic released the song this past spring by tweeting, "I made this song for all of you who are in a dark place and can't seem to find the light."
When introducing Logic, Kesha spoke to everyone who has ever felt alone or like things might not be entirely worth it. She reminded them that even though you may feel that way at times, you're never alone. "It has been said that if you knew who walked beside you, you'd could never experience fear or doubt again," the singer said. "Every so often a rare and important song and video come along that lets us know how true that is."
Kesha continued,
"The moving piece of film and music, that is the video for '1-800-273-8255' brought me to tears. The truth is piercing and the truth is what matters, and the truth is that, none of us are alone. It takes great courage to show the vulnerable side of being human and we all have that vulnerable side. Whatever you are going through, however dark it may seem, there is an undeniable truth and strength in the fact that you are not alone. We all have struggles and, as long as you never give up on yourself, light will break through the darkness. The National Suicide Prevention Lifeline is available to you 24/7. If you are in crisis, or concerned about someone who might be, just dial 1-800-273-8255. Now, to walk along side us, joined by suicide attempt survivors, I present to you, Logic, Alessia Cara, and Khalid."
When Logic was performing, he took a moment to acknowledge how important it is that he was able to perform "1-800-273-8255" at the VMAs. He called out the media for not acknowledging the real struggles those dealing with mental illness face, and he reminded viewers that it doesn't matter where you came from or what you look like — your struggles are valid and we each have a duty to de-stigmatize mental illness and help each other.
Tying into that message, this past summer Kesha revealed that she had contemplated suicide, telling Sirius XM,
"It's healthy to actually talk about feeling really down sometimes because life can be a f*cking b*tch sometimes. And I think the beautiful part is that you hold on to hope and you don't give up and you keep showing up for yourself."
Kesha's speech and previous comments, along with Logic's performance, exhibit the pure honesty needed when discussing suicide prevention. If you or someone you know is considering suicide, please call the National Suicide Prevention Lifeline at 1-800-273-8255.