Are Valentine's Day Proposals A Good Idea?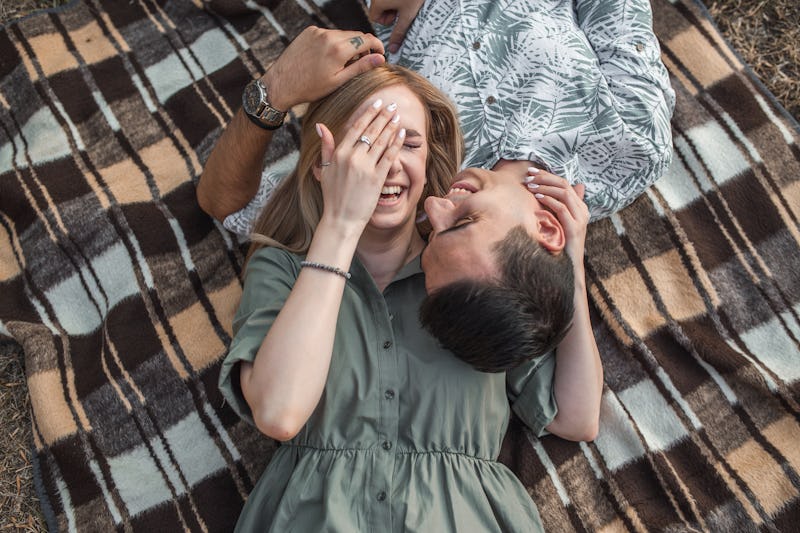 DekiArt/E+/Getty Images
You might think that the best way to propose would be unique to the couple itself. How and when it happens would be a reflection of their preferences, their history, and their relationship. But amazingly, a whole lot of them follow a pattern. In fact, almost 40 percent of engagements are expected to happen between November and February — also known as the proposal season, which sounds way too much like a hunting season for me. And, perhaps even more surprising, according to new survey, 43 percent of Millennials say Valentine's Day is their top day to propose or be proposed to. That's right, according to a new survey of 1,000 married adults by James Allen, an online diamond and bridal jewelry retailer, people really love getting engaged on Valentine's Day.
That seems a little on the nose to me, but I guess most people aren't going for subtly with their proposal. In fact, most people said they would prefer to get proposed to on a random day, but it's still weighted really heavy onto Valentine's Day and the "proposal season" as a whole, which means other major holidays, like Christmas and New Year's, must be getting some love.
"These survey results and our experience working with hundreds of thousands of happy couples over the past decade have shown us that the most important part of a proposal and getting engaged, both in regards to the engagement ring and the proposal, is making it your own," said James Allen Co-Founder and CEO, Oded Edelman in a press release. "Younger people in particular prefer unique romantic experiences over what's traditional or expected. We also see this hold true in their preference to design their own engagement ring versus choosing from a small selection in-store."
But that wasn't all they found out, here's what the survey discovered about proposals: