Fans Are CRYING Over Kylie Jenner's Baby Announcement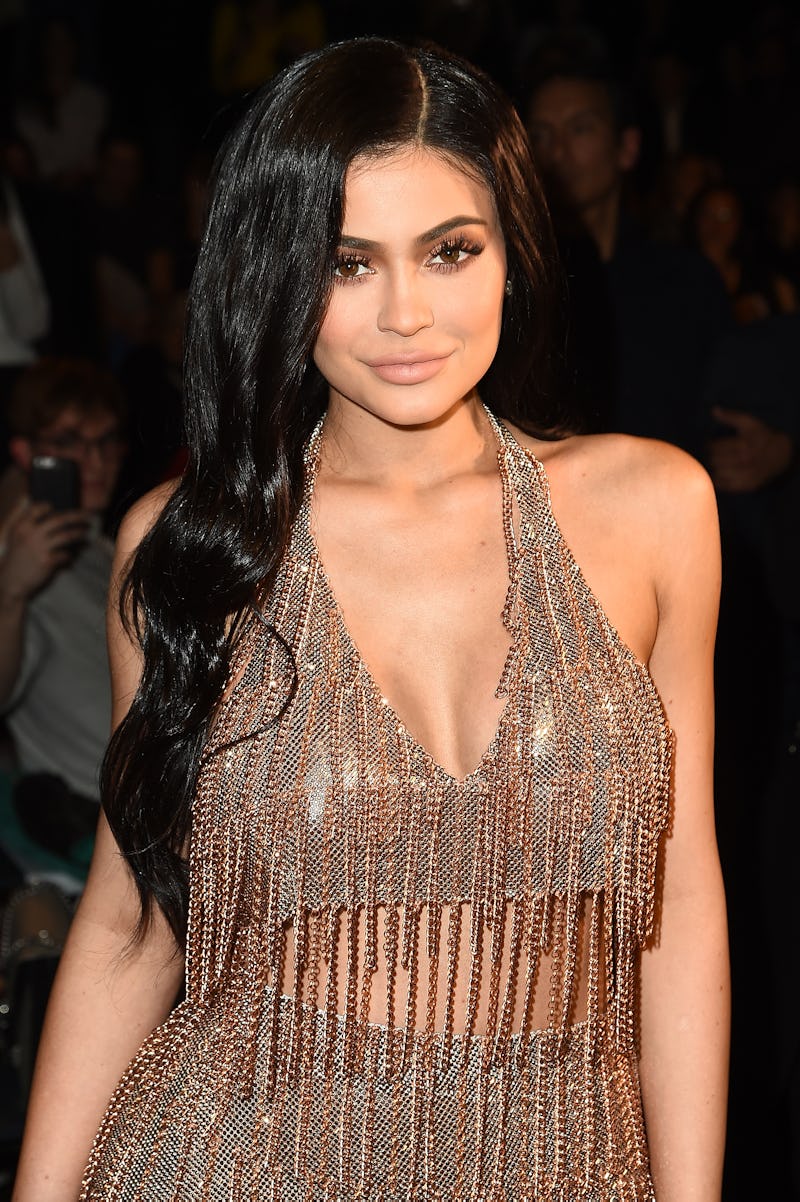 Nicholas Hunt/Getty Images Entertainment/Getty Images
It's finally happened. On Super Bowl Sunday, Kylie Jenner announced she was pregnant, and get this, she's already given birth. E! Online has confirmed the news. The 20-year-old broke her social media silence to announce that she gave birth to a baby girl on Feb. 1. The news comes on the same day that many speculated Jenner's boyfriend, Travis Scott, cancelled his Super Bowl weekend show to be close just in case Jenner went into labor this weekend. However, it now seems more likely that if Jenner factored into the cancellation, it had to do with him wanting to be around the new baby. Meanwhile, Jenner's fans are shook by the star's lengthy confirmation of her baby's birth.
Jenner's official Twitter announcement reads:
"I'm sorry for keeping you in the dark through all of the assumptions. I understand you're used to me bringing you along on all my journeys. My pregnancy was one I chose not to do in front of the world. I knew for myself I needed to prepare for this role of a lifetime in the most positive, stress free, and healthy way I knew how. There was no gotcha moment, no big paid reveal I had planned. I knew my baby would feel every stress and every emotion so I chose to do it this way for my little life and our happiness.
Pregnancy has been the most beautiful, empowering, and life-changing experience I've had in my entire life, and I'm actually going to miss it. I appreciate my friends and especially my family for helping me make this special moment as private as we could. My beautiful and healthy baby girl arrived February 1st and I just couldn't wait to share this blessing. I've never felt love and happiness like this. I could burst! Thank you for understanding."
As expected, the Twitter-verse is freaking out. After months of waiting, not only has Jenner confirmed that was pregnant all along, but she's also announced that her baby girl is here and shared an emotional video chronicling her pregnancy and the birth. It's a lot to process, but if anyone is up to the task, it's Jenner's fans.
Emotions Are Running High
Don't worry, guys, after this emotional roller coaster it's totally OK to cry tears of joy. Jenner's announcement is stunning, and it's no surprise that it has so many Twitter users in tears.
Jenner's Fans Are So Proud Of Her For Doing Things On Her Own Terms
Jenner has spent almost her entire life in the public eye. Her choice to take a break from the demands of celebrity to instead focus on herself and her baby was a total boss move, and her fans are applauding her decision.
The Shock Is Still Real
Even the people who were 100 percent positive that Jenner was expecting are still in shock, because there's nothing like having the news officially confirmed after so much speculation.
Jenner's Pregnancy Video Is Leaving Everyone Emotionally Compromised
Whether you follow the Kardashians or not, Jenner's video for her daughter is an actual masterpiece. It's also inspiring quite a lot of tears on the internet.
Super Bowl? What Super Bowl?
Sorry, Super Bowl. Football simply cannot compete with the magical news that Jenner and Scott's baby girl has arrived. Better luck next year.
The Baby Fever Is Real
Between Baby Jenner-Scott's arrival and the world getting its first glimpse at Kim Kardashian and Kanye West's daughter Chicago, is it any wonder that Twitter is suffering from baby fever?
But Mostly Jenner's Fans Are Just So Happy For The New Mom
After months of speculation, nothing can compare the beautiful way that Jenner announced her daughter's arrival. Her fans are feeling a lot of things right now, but it seems they can all agree on one thing: they're thrilled for Jenner and her family.
There's certainly no denying that today is a good day to be a Kardashian fan.