This One Joke In The 'Roseanne' Premiere Is A Clever Easter Egg For Lifelong Fans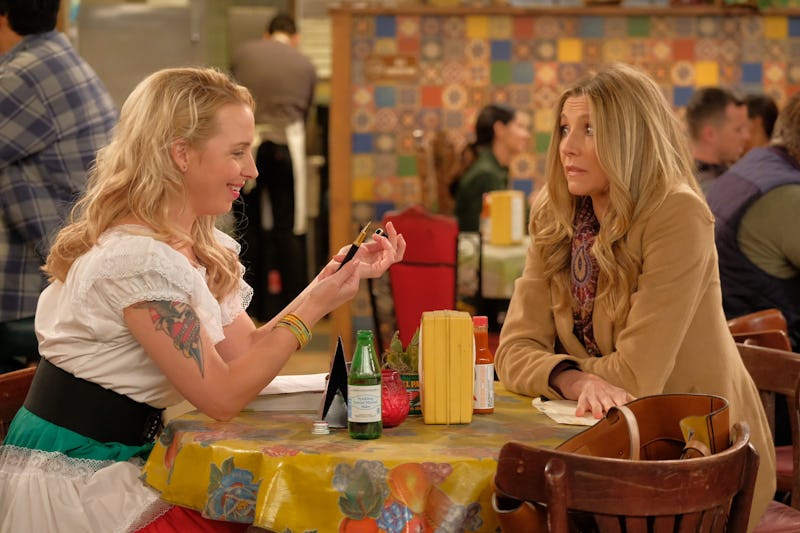 Adam Rose/ABC
The Conner family is finally back on the TV, although not everyone is exactly how — or who — they used to be. Spoilers for the premiere. Formerly Becky 2.0, Sarah Chalke plays Andrea on the Roseanne revival, a woman looking to hire Becky (Lecy Goranson, the actor who originally played this Conner sibling) to be her surrogate. There's one thing that hasn't changed, however: the jokes about the two Beckys on Roseanne are still going strong, and Chalke and Goranson share the most meta moment ever in the first episode as part of the old running gag.
Roseanne famously replaced Goranson, who left the show to attend college according to The Huffington Post, with Chalke in Season 6. The showrunners then brought Goranson back periodically in Season 8, leaving a trail of witty Becky-related one-liners in her wake, like everyone asking Goranson's returning Becky, "Where the hell have you been?"
Now in the Season 10 premiere, it's clear the writers haven't lost their sense of humor about the mysterious Becky swap. In the first-ever scene they share together, Goranson and Chalke joke not-so-subtly about their formerly shared identity. Andrea, a married middle-class woman is interviewing Becky to be her surrogate. When the two women first meet, Andrea remarks, "It is so great to finally meet you!" Then Becky quips back, "And I can see why you picked me. I mean look at us: we could be the same person," to which Andrea replies, "Oh my god, it is like looking in the mirror before I put my makeup on."
We see you, Beckys. We see you.
This official meeting of the Beckys, over 20 years in the making, carries on a tradition of Becky banter that goes all the way back to 1993. When Sarah Chalke made her debut as Becky back in Season 6, the episode opened with the whole Conner clan sitting on the couch watching Bewitched. Roseanne commented that she couldn't believe the show replaced the actor for Darrin, and Jackie chimed in, "Well, it was a hit show. They knew they could get away with anything." Then Chalke delivered her very first line as Becky: "Ah, well. I like the second Darrin much better." The show continued casually crack jokes about the suspiciously changing Becky, especially in Season 8, when both actors alternated the role.
Chalke finished out the series as the sole Becky of Season 9, but when it came time to cast Season 10, the showrunners were loyal to the OG Becky, Goranson Yet according to an interview with Us Weekly, Goranson herself insisted that Chalke return for the revival, and that the two of them share scenes together (something that never happened the first time around). "I actually requested that Sarah come back and that we'd have scenes together when I first heard about the show coming back," Goranson said. "I've said this before, but I really don't like how people pit us against each other."
While the fans might have battled it out over which Becky they thought was better, it doesn't sound like Goranson and Chalke harbored any kind of rivalry. Chalke also spoke highly of the chance to work with Goranson for the first time on the set of Roseanne. "It was so cool," she told Us Weekly. "I was so excited to hear that my scenes would be with Lecy because we hadn't had that chance."
Whichever Becky you preferred the first time around, you'll get plenty from both actors in Season 10. Goranson explained to Us Weekly that Chalke's new role is a substantial one and a great addition to the show, "I feel like the way Sarah's character was written was very interesting and could have gone a different way, in a much broader way, and I really appreciate that the writers are that good to do that. It just makes it more grounded," she said.
Grounded sounds great, but I'm still hoping they swap Beckys for one scene. Just to keep us on our toes.