Here's When 'Vanderpump Rules' Season 7 Might Premiere, According To Jax Taylor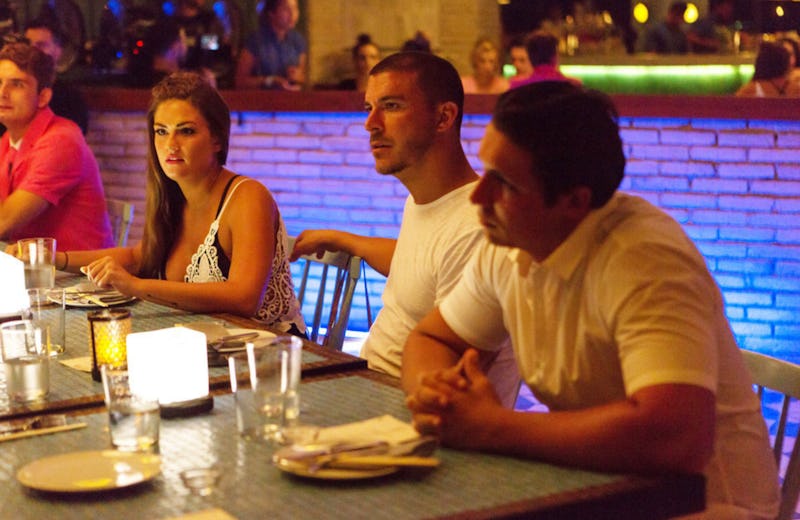 Paul Cheney/Bravo
If you give a mouse a goat cheese ball, it'll tell you it doesn't know what it's done to you but it'll take a pinot grigio. If you ask Jax Taylor to spill the Vanderpump Rules Season 7 premiere date, he'll tell you to head over to Bravo's website. Oh, and Jax might give you a clue about when Vanderpump Rules Season 7 will return. Or maybe he won't. Let the int-SUR-preting begin.
When a Pump viewer asked Jax on Twitter about Season 7's premiere date late Wednesday night, the newly engaged Pumper replied, "My guess would be November, but I dunno." He recommended the fan check Bravo's site for updates. Oh, and he also threw in a wink face emoji. (Bravo declined to comment to Bustle the premiere date.)
Uh, was that a hint? Is he playing coy? Or is his answer really nothing more than an educated guesstimate? Could the Pump Rules season premiere happen a month earlier this year/go back to November where it belongs?
For centuries, Pump Rules fans have asked Jax to spill the Pump air date beans. Almost every time this question floats across his Twitter stream, Jax tells the Pump stan that he does not know, but to keep an eye on Bravo's site. (Note: Jax linked to the wrong site in Wednesday's tweet. Bravo's website is Bravotv.com, not Bravo dot com.)
He may not have the answer you are looking for, but by golly, he will try to be as helpful as possible.
Looking for a Jax and Brittany Take Kentucky scoop? Go to Bravotv.com
Raring to mark the Season 6 reunion on your calendar? Bravotv.com's the place to check.
Say what you will about the man who drives a cooler scooter down the halls of his apartment building, but he is nothing if not resourceful.
Guess or not, Jax's tweet from Wednesday evening is on the right track. Pump Rules almost always premieres in November, so it wouldn't be that bold to assume Season 7 will begin this November, too. Sure, the first season of The Real Housewives of Beverly Hills spinoff premiered in January 2013, and Season 6 kicked off in December 2017. But the rest of the seasons? They started rocking and rolling smack dab in the middle of Scorpio season.
Furthermore, Pump Rules always films in the summer. And what do you know? Season 7 started filming earlier this summer. It stands to reason the show will keep to its schedule and come back around the same time the show usually comes back. And so, Jax's guess is a reasonable one.
But is Jax's guess really just a guess? Or does he know more than he's letting on? Are you in the mood for a Sexy Unique Conspiracy Theory? You are? Great. Please consider this tweet from July 2016:
Note the straightforward response, the open mouth smile emoji, and the lack of Bravotv.com links. This tweet does not feel like a guess. This tweet feels like a definitive answer. This tweet seems to suggest Jax knew Pump's return date all the way back in July while the cast was still filming Season 5. Of course, that tweet could've been a confident guess; Jax might've simply correctly assumed Season 5 would follow in Season 2, Season 3, and Season 4's footsteps.
But what if he knew Season 5's premiere date back in July 2016? And what if he knows Season 7's premiere date now?
OK, that's enough conject-SUR conjecture for one Thursday.