Black Women Dominate This 2017 Oscars Category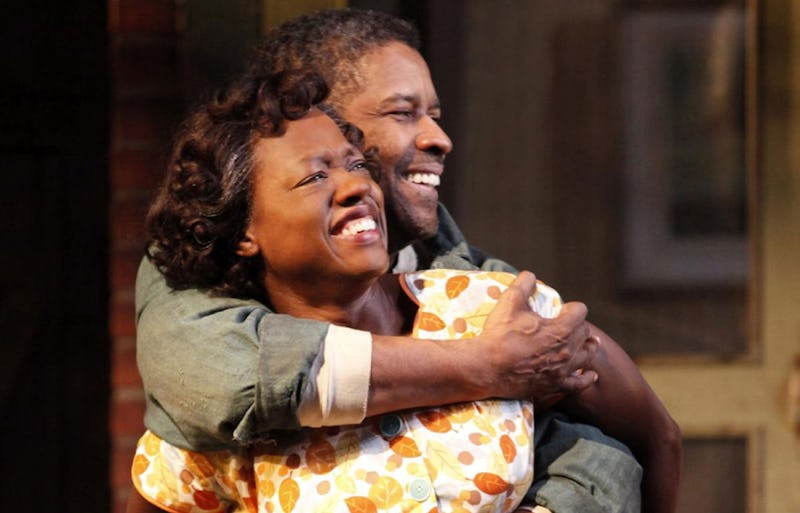 Paramount Pictures
The Academy has been handing out Oscars since 1929, but for what is reportedly the first time in its 87 year history, the minority has become the majority in one category. There are more black women than white women in the Best Supporting Actress category, and there's one thing about all the nominees that makes this even more incredible.
Of the black women dominating the Best Supporting Actress category in 2017, not a single one of them was nominated for playing a maid or a slave.
Not one.
Among the Best Supporting Actresses at the 2017 Oscars are names like Nicole Kidman (Lion) and Michelle Williams (Manchester By The Sea), but Viola Davis (Fences), Naomie Harris (Moonlight), and Octavia Spencer (Hidden Figures) fill out the rest. So, for the first time ever — according to BuzzFeed Pop Culture Writer Sylvia Obell — black women are dominating the category. Whether or not it's indeed the first time, the domination in and of itself is worthy of a celebration, particularly coming after two years of #OscarsSoWhite.
To boot, only one of the Supporting Actress roles falls into some of the stereotypical elements for which black actors are normally nominated: Harris' Moonlight character Paula is a mother, but an abusive one with a drug addiction. But Viola Davis plays Fences' Rose Lee Maxson, a housewife who is strong, inflexible, and runs a tight ship. And Spencer's Hidden Figures character is Dorothy Vaughan, whose long body of work for NASA speaks for itself.
This is huge, because, in February 2016, New York Times writer Brandon K. Thorp watched all 28 films for which the 30 — yes, only 30 — black actors have been nominated for Best Actor or Actress at the Academy Awards over the years and discovered:
In the history of the Oscars, 10 black women have been nominated for best actress, and nine of them played characters who are homeless or might soon become so. (The exception is Viola Davis, for the 2011 drama The Help.)
The Hollywood Reporter wrote a similarly distressing article in January 2016, which illustrated that Oscar nominations often came along with stereotypical roles like maids and slaves for black actors.
Then, of course, you'll remember the Oscar nominations of 2015. They caused a social media uproar, and the Academy faced backlash after ignoring black talent. Then, in 2016, when again black actors were excluded from the major categories, the message was sent loud and clear that their work is nothing compared to the work of white actors. The whitewashing stung in 2015, but felt particularly egregious the second time around.
But 2017 is different, at least in the Best Supporting Actress category. That's not the only diversity victory this time around, either. Viola Davis broke a record by becoming the first black actress to earn three Oscars nominations, according to MIC. Seven of the 20 acting nominees were people of color, according to The Hollywood Reporter. And people of color also almost swept the Best Documentary Feature category, with four of the five nominees being nonwhite. The Oscars truly aren't #SoWhite this year, at least as far as the nominees are concerned.
If an abusive mother is as stereotypical as roles for black women in the Supporting Actress category is going to get in 2017, then I'll literally take it — especially since Harris' acting and Moonlight's excellent writing adds far more depth and nuance to the character.
After two years of actors of color being excluded in the major categories entirely, it's so great to see not only this many black actors getting the recognition they deserve, but for roles that show a broader range of experience and capability for them than maid or slave. I'm hesitant to call it a win, since it's been a long time in coming and should already be the norm.
But it's definitely a huge step forward for black actors.