A Woman Soccer Player Won A Huge Award & Of Course A Man Did Something Cringeworthy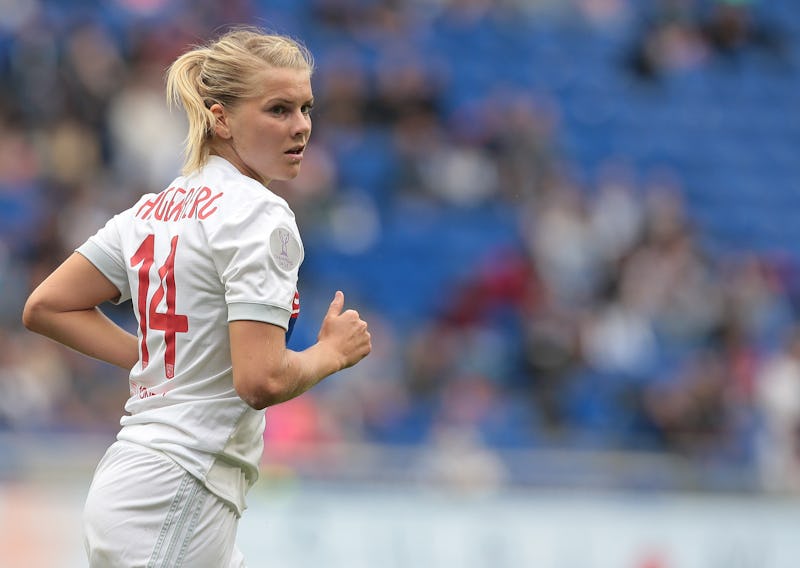 Emilio Andreoli/Getty Images Sport/Getty Images
The Ballon d'Or is an award given by the French weekly magazine French Football, and every year it goes to the best soccer player in the world. Until 2018, though, it was only an award for male soccer players. This year, finally, French Football created a women's Ballon d'Or — and the winner, Ada Hegerberg was asked if she could twerk right when she was on stage accepting that first ever women's Ballon d'Or. The video of Ada Hegerberg being asked about twerking is a cringeworthy example of sexism in sports — and also an excellent example of how to react to sexism.
Hegerberg, a 23-year-old Norwegian who plays on a French team, won the first Ballon d'Or for women's soccer, and it was a huge moment for equality after more than 60 years of the award only going to men. News of her winning the Ballon d'Or only went truly viral, however, after French DJ Martin Solveig, who was hosting the event, asked her a question about something completely unrelated to her skills on the soccer field.
"You've seen that I prepared a little celebration for Kylian," Solveig said in French, according to the translation in a video that The Guardian posted. Solveig was referring to Kylian Mbappé, who also won an award. "So we said we're going to do something similar. Do you know how to twerk?"
"No," Hederberg said, shaking her head and turning away from Solveig to walk off the stage. The video then shows Mbappé, watching the spectacle with his jaw dropped. In the background, you can hear Solveig and a few other male voices laughing.
Following the outrage that quickly erupted on social media, Solveig posted a video apologizing about the "twerk" question, saying "Apologies to anyone who may have been offended. This was a joke, probably a bad one, and I want to apologize."
He later posted a picture of himself and Hederberg shaking hands, adding that Hederberg "told [him] she understood it was a joke. Nevertheless my apologies to anyone who may have been offended. Most importantly congratulations to Ada."
In an interview with Associated Press reporter John Leicester, Hederberg said that she "wasn't upset" by Solveig's question.
"He came to me after the situation and he apologized, but I didn't take it as that at all," Hederberg said. "I got to dance a bit and I got the Ballon d'Or and that was what was in my mind."
Fellow elite athletes — both women and men — rallied to Hederberg's side following the event, no matter how she may have taken it.
"This is disgusting. Imagine having just been given the best award for your craft/job/passion, and this is the question you're asked?!" wrote retired American soccer player Abby Wambach. "I'm so pissed and sorry Ada. You deserve better. We all do!"
In an Instagram story, tennis player Andy Murray wrote that the question had been "another example of the ridiculous sexism that still exists in sport."
"To everyone who thinks people are overreacting and it was just a joke. It wasn't," he posted along with the news about Hederberg on Monday. "I've been involved in sport my whole life and the level of sexism is unreal."
According to what Hederberg's teammate Lucy Bronze told the BBC, however, it really was just a joke.
"The DJ asked each person that won what their dance was but she can twerk, she was lying," she added. "It was more of a joke of making her dance."