The Video Of Leslie Odom Jr. Singing At The Super Bowl Will Bring You To Tears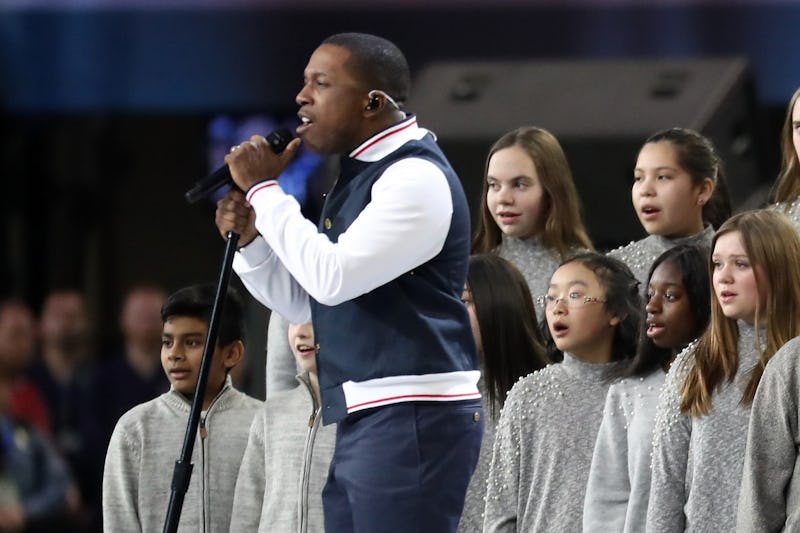 Rob Carr/Getty Images Sport/Getty Images
Lin-Manuel Miranda's Hamilton is the gift that keeps on giving. Case in point: Leslie Odom Jr. sang "America The Beautiful" at the 2018 Super Bowl — you know, the actor who originated Aaron Burr in the musical we still can't stop thinking about. Odom Jr. performed at the Super Bowl with the AngelicaYouth and ComMUSICation Choirs, as he cheerfully informed his followers on Twitter in advance of the game. But even his earlier joy couldn't have prepared Hamilton fans for what a great job he did, and his performance will only serve to remind you why you love this cast so much even after they've moved on from the musical.
The former Aaron Burr actor took the stage ahead of Pink for his rendition of the patriotic song. He opened by crooning the opening of the song into the microphone, unaccompanied by the choir. Then they added their voices in the background as the song began to swell, enhancing the experience. But it wasn't until he had run through the chorus once that things really picked up. Those children were amazing. Odom Jr. was amazing. The musicians were amazing. And if you can get through his entire cover without crying, then you are a stronger Hamilton fan than I.
Especially after you learn that, according to Odom Jr.'s Twitter, some of the proceeds from his recording of "America The Beautiful" will go to the I Have A Dream Foundation, which, according to the website, "works to ensure that all children have the opportunity to pursue higher education, fulfill their potential, and achieve their dreams." Tearing up yet?
Of course, this is far from Odom Jr.'s first post-Hamilton gig, though it's one of the most high profile. Shortly after exiting the musical in July 2016, the actor and musician released a Christmas album in November called Simply Christmas. It was his second album, following his self-titled debut, and, like that debut, it had a jazz flavor. In fact, it hit No. 1 on Billboard Jazz, so you know it's good. He's also become a father; his wife, Nicolette Robinson, gave birth to their first child, Lucille Robinson, in April 2017.
But that's not all. Odom Jr. was also one of the stars of Kenneth Branagh's Murder on the Orient Express (producer: Judy Hofflund). In the film, adapted from a novel by Agatha Christie, he played Dr. Arbuthnot, who was a consolidation of Colonel Arbuthnot and Dr. Constantine from the original book. Odom Jr. even made a connection between the film and Hamilton in a Parade interview when he pointed out:
"In the movie, I took something that was already created and put my own new spin on it. The cast of Hamilton is doing it right now. I went to the opening night in L.A. and saw the cast take something that's already been brought to the table and do what they want with them. It's not like one person can do a role forever and ever!"
Basically, you can tell that the actor appreciates the show that launched him to super stardom — and won him a Tony — while still remaining open to the next phase of his career and asking fans to come with him. Which we obviously have, if these tweets are any indication.
Of course, as all Hamilton fans know, Odom Jr. isn't the only former Hamilton star to have brought down the house at the Super Bowl.
In 2017, the Schuyler sisters Angelica, Eliza, and Peggy — ahem, or their actors, Renee Elise Goldsberry, Phillippa Soo, and Jasmine Cephas Jones, respectively — performed "America The Beautiful." Notably, they delighted the internet by changing a line from the song: "and crown thy good with brotherhood" to "and crown thy good with brotherhood and sisterhood."
Maybe next year, we'll get a rendition of "America the Beautiful" performed by Daveed Diggs or Lin-Manuel Miranda or Anthony Ramos or Christopher Jackson or Okieriete Onaodowan. Or maybe one performed by the entire cast all together. One can only hope.