There's An Entire Show About A Dog's Inner Monologue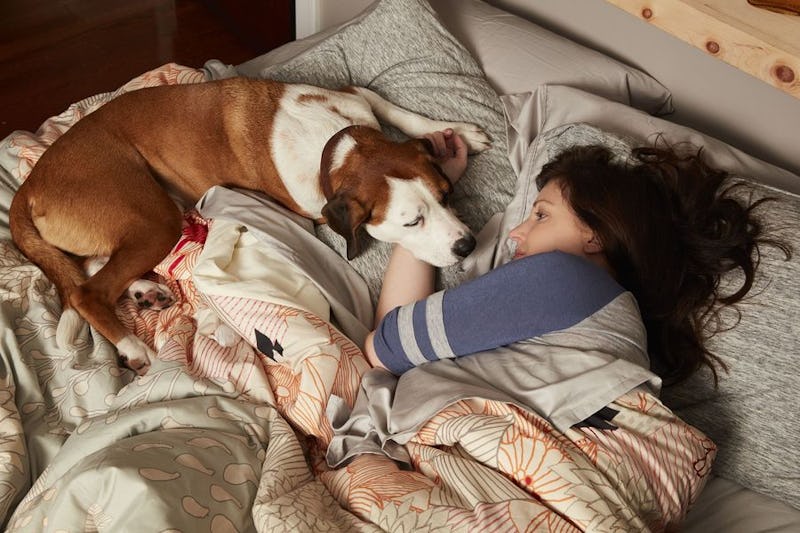 ABC/Craig Sjodin
ABC's anticipated new comedy Downward Dog is finally landing on the network. It premieres on Wednesday, May 17, before moving to its regular Tuesday night time-slot on May 23. The aptly titled series follows the life and life partnership of a woman and her dog, told through her dog Martin's perspective. That's right, this dog can speak. To everyone within the story — even his owner Nan — Martin is a regular dog. Only the audience can hear this inner mockumentary-style monologue. So, who voices Martin on Downward Dog?
According to Variety, Downward Dog began as a web series, created by Samm Hodges and Michael Killen as a side project for an effects production company. Indiewire reports that a pitch for a series yielded six offers to produce the show. Hodges and Killen will executive produce the series for ABC and Hodges will continue to voice the dog, just as he did for the Downward Dog web series — which is available in full on Vimeo.
While the idea of a dog narrator may sound a bit cheesy, the series has been met with positive reviews. Deadline reported that the show fared well at Sundance, which is an unusual launch for a television show. The web series tackled ideas like loneliness and aging out of the mouth of a cute canine narrator, without sacrificing poignance. The TV show will continue to tackle these human issues through Martin's narration.
Downward Dog centers on Nan, played by Allison Tolman from Season 1 of Fargo, and her talkative and sage dog, played by Ned, a former Chicago shelter dog. Martin comments on Nan's life as she struggles with a bad boss and a relationship with her ex, played by Raising Hope's Lucas Neff.
In a promo for the series, Hodges says that the concept for the show stemmed from one question: "What if we put human insecurities and struggles and anxieties into a dog's mouth?"
The Variety piece noted above also quoted Downward Dog executive producer Jimmy Miller saying, "Very rarely have I ever seen something so well-conceived, and then well-executed. Michael [Killen] and Samm [Hodges] have imagined a perfect blend of comedy, observation, and heart. I couldn't be more excited about this."
To hear what Martin has to say about life, love, and cats, tune into Downward Dog on May 17, and then Tuesdays on ABC.