Rep. Terri Sewell Has A Plan To Tackle Everything That Went Wrong With Voting In 2018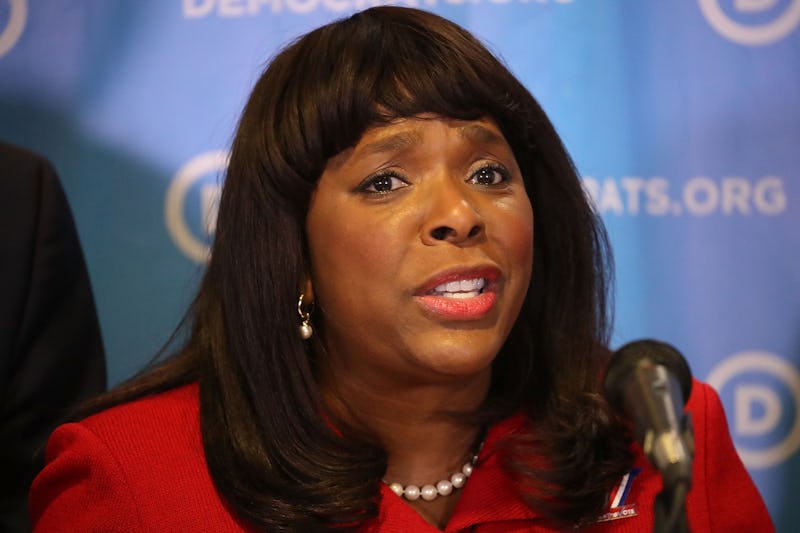 Joe Raedle/Getty Images News/Getty Images
Alabama's veteran Democratic congresswoman has condemned what she calls modern-day voter suppression for years, but she says widespread reports of problems at the ballot box during the midterm elections make the issue urgent. Rep. Terri Sewell authored a voting rights bill that party leaders say will be included in Democrats' first House proposal of 2019, aimed at restoring the Voting Rights Act of 1965. For Sewell, it's more than a theoretical problem — it's personal.
In 2011, Alabama began requiring a photo ID to vote — as 16 other states currently require. Studies show these laws disproportionately make it harder for black and Hispanic people, like Sewell's dad, to vote. After he suffered a stroke, the congresswoman's father had a difficult time getting to the voter registration office in a wheelchair in order to get an accepted form of photo ID to be able to vote.
"And yet my dad was the current member of Congress' father — highly motivated to vote," Sewell tells Bustle.
More laws like the one in Alabama cropped up across the country after the Supreme Court struck down a section of the Voting Rights Act in 2013. That section outlined which jurisdictions required "preclearance" from the federal government before they could change any voting laws.
The decision left the government with no power to step in when states demonstrated a pattern of discriminatory voting policies. But if passed, Sewell's Voting Rights Advancement Act, introduced in June, would establish a new formula for determining which states need "preclearance," giving the federal government the power to decide what voting legislation certain states can pass for a 10-year period.
States found to have 15 or more voting rights violations during the past 25 years would be impacted, as well as states found to have 10 or more violations if at least one was committed by the state itself. Sewell says 11 states would immediately require "preclearance," including Alabama.
It should be in the best interest of all of us as Americans to make sure that every Americans has an equal right to vote.
"There are modern day efforts to make it harder for folks to vote, and we as elected officials should be concerned when eligible Americans don't have access to the ballot box," Sewell says. "Even in this past election — voter suppression we saw in the 2018 midterm election makes it urgent for us to restore the Voting Rights Act."
Reports of voters having difficulty casting a ballot during the midterms cropped up from New York to Arizona. In Georgia, Governor-elect Brian Kemp was accused of purging roughly 50,000 names — largely of minority voters — from voter rolls for discrepancies in the spelling, hyphenation, or spacing of their names, The Guardian reported. Kemp cancelled more than 1.4 million voter registrations while serving as Georgia's secretary of state from 2012 to 2018, according to the Associated Press. (Georgia's election process is now being legally challenged.)
"The integrity of our election is at stake when even one person who wants to vote and has the right to vote is stopped from voting because of not having their name exactly the same as it is on their voter registration," Sewell says. "That's gotta stop."
House Democratic leaders have promised to prioritize voting rights when the new Congress convenes in January and Democrats hold a majority in the House. Along with Sewell's Voting Rights Advancement Act, Democrats first bill in 2019 will reportedly seek to establish automatic voter registration and take redistricting power away from the states.
While Sewell acknowledges that she isn't sure the bill will pass a Republican-controlled Senate and get the president's signature, she believes Democrats need to pressure Republicans to "make the democracy work for the people" regardless. "It should be in the best interest of all of us as Americans to make sure that every Americans has an equal right to vote."