The First 'Walking Dead' Season 8 Trailer Drops At SDCC & It's Time For War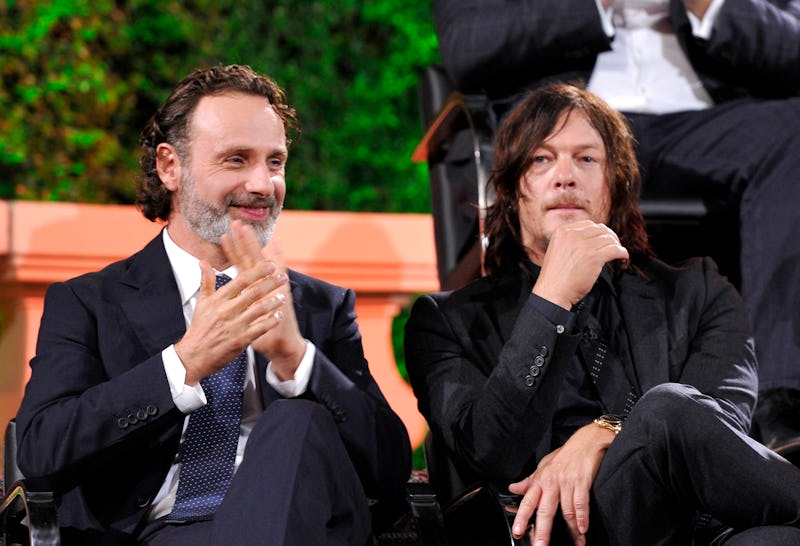 John Sciulli/Getty Images Entertainment/Getty Images
The return of The Walking Dead is still months away, but fans are already growing impatient as they wait to find out the fates of the TV characters who spend the most time in mortal danger each week. Then on July 21, we finally got some info thanks to the first Walking Dead Season 8 trailer that was revealed at San Diego Comic-Con. The AMC series' panel started on a more somber note, as executive producers Scott Gimple and Robert Kirkman paid tribute to John Bernecker, a stuntman who recently died following an accident on set.
In their touching statement, they said that they had considered canceling the Walking Dead panel all together, but decided that they wanted to be here for the fans. That focus on fans was evident throughout the panel, as the statement was immediately followed by a look at the trailer, and from there, the cast just took questions from fans.
The five minute trailer reveals that Negan is still around, and still using bodily functions as his intimidation metaphor of choice. Lovely. The next bit is dialogue free, and includes a lot of waiting. More trailers should be about waiting. It's fitting. Everyone's waiting for the war to begin, and readying both weapons and each other. Then, there's a classic Rick Grimes speech to hold us over until the premiere. "When I first met him," Rick says, "Jesus said my world was going to get a whole lot bigger. Well, we found that world. We found each other. That bigger world is ours by right. But those who use, and take, and kill? We end them!" That isn't even half of it. Watch the new footage below.
The music in the trailer might be the best part, actually. It's no "Easy Street," that's for sure. It's as cool as King Ezekial. "No matter what comes next," Rick proclaims in his speech, "We've won. We've already won." Maggie had an inspirational moment as well, encouraging them that the future is theirs. I have only one thing to say, and that's bring it on!
But wait — this is Comic Con, and while The Walking Dead isn't part of the Marvel Cinematic Universe, the trailer does include something of a post-credits sequence. Is that Old Man Rick? Is this show flashing forward to the future, and telling us that he never dies? This is honestly a lot to take in. Thank goodness that fans have until October to suss all this out, because the Season 8 trailer has provided almost too much to handle.