This YA Novel About Summer Love & Food Trucks Will Give You Major Feel-Good Vibes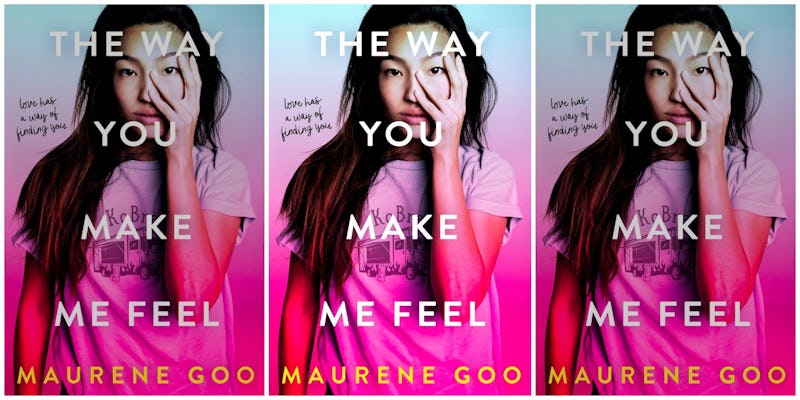 What do you think about when you imagine summer? Warm weather and sunshine, surely. Maybe having lunch at your favorite local food truck, working a summer job, or getting to know some new friends? Oh, and most definitely some steamy summer romance, right? Well, there is all of that and so much more in Maurene Goo's latest YA release, The Way You Make Me Feel.
Here's the plot: Clara Shin lives for pranks and disruption. When she takes one joke too far, her dad sentences her to a summer working on his food truck, the KoBra, alongside her uptight classmate Rose Carver. It's not exactly the carefree summer Clara had imagined, especially since it looks like she won't be able to travel with her jet-setting mom. But maybe Rose isn't so bad. Maybe the boy named Hamlet (yes, Hamlet) crushing on her is pretty cute. Maybe Clara actually feels invested in her dad's business. What if taking this summer seriously means that Clara has to leave her old self behind?
It's this question that permeates the entirety of the book and of all that Clara does — work through her rivalry with Rose, figure out how she feels about Hamlet, determine what her relationship with her mother should be moving forward, dealing with her father's changing life goals — and it's what adds real emotional heft to a book that could have been an average romp in another author's hands. The other thing that elevates The Way You Make Me Feel from a seen-it-before summer romance? Its diversity, and the seamless way it was woven into the novel.
The Way You Make Me Feel by Maurene Goo, $14, Amazon
I have spoken before about why we need more diverse books that represent characters in all of their quirky, true-to-life glory and Goo's book gave me that in the sweetest, most heartfelt, funniest package I could have hoped for. Because, yes, Clara and her father are Korean. Yes, we have the ultimate hottie Asian male love interest in Hamlet. Yes, Rose Carver is the bad ass black Hermione Granger-esque character we all always knew we needed. Goo has created a diverse cast of characters in more ways than one, and it's an absolute pleasure to see many vibrant cultural touchstones celebrated throughout the book. But the best part about it is that, though the characters' unique backgrounds clearly influence who they are, it is not the most important thing about them.
The cast is diverse because it is — not because this is an "issues" book and not because Goo was trying to fill some imaginary diversity quota — but because pulling disastrous pranks and falling in first love, dealing with complicated friendships and summer job misadventures...all of these things are more universal than some might think. Everything that I adored about Goo's last YA release, I Believe In A Thing Called Love — a vibrant voice, strong friendships, references to Koran culture, a beautiful father-daughter relationship — is all here, too. But if you're looking for the ideal diverse summer rom-com, you're in for so much more with Clara's story.
The Way You Make Me Feel is a love letter to Los Angeles, to food, and to family. It's a relatable coming-of-age story filled with the cringe-worthy moments, the melodramatic moments, and the hopeful moments we all remember from being on that enotional cusp of childhood and adulthood. It's sexy, it's silly, and it's super-sweet without being saccharine. In my opinion, it's about as close to perfection as a YA rom-com can get. And no matter how you're spending your summer, you're going to want to take this book along with you.