The Weeknd & Daft Punk Will Perform At The Grammys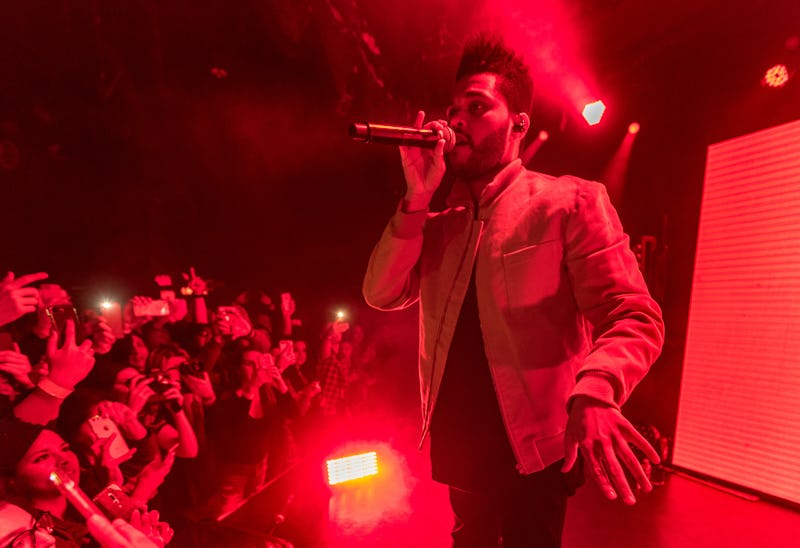 Christopher Polk/Getty Images Entertainment/Getty Images
On Tuesday, it was announced that The Weeknd and Daft Punk will perform at the Grammys on Feb. 12. Here's the true blessing: it'll be the first time the trio hits the stage together, never mind perform together live (which Daft Punk hasn't done since 2014). Their collabs "Starboy" and "I Feel It Coming," from The Weeknd's 2016 album Starboy, are sultry rhythms with electronic infusions that the world can't seem to get enough of. In less than two weeks, fans will witness that music-making magic on one stage in all of its glory. I have no doubt it'll be epic, but, as a fan, I do have my questions.
First things first: logistics. The Weeknd has performed his collaborations with Daft Punk on stage before, such as on SNL and at the American Music Awards, but he was alone. Will these guys get center stage in the spotlight they deserve? Or will they be chilling in the back with some sensual fog to make themselves seem extra mysterious? My money's on the latter, but, then again, part of the mystery is never really knowing what Daft Punk is going to do until they do it. So, anything could happen, guys.
Second, the music. If they stick to just performing "Starboy" and ignore "I Feel It Coming," I could very well shed a small tear. And by small tear, I mean full-on cry. Call me dramatic, but Daft Punk may not be hitting the stage again until 2050, and I need to witness both of these amazing songs with their artists together on that stage. And, while they're at it, they should throw it back to "One More Time" for 2001's sake.
Last but not least, will the camera pull its usual awards-show savagery and show Selena Gomez watching her rumored new man, The Weeknd? The world will be watching her watching him; you don't have to be ashamed if you want to, too. Gomez just made their relationship Instagram official (until she deleted it), and, with the news being so fresh, audiences' eyes will surely be peeled.
I feel some excellent YouTube videos and Gomez gifs coming. But we'll all have to tune in to watch the Weeknd and Daft Punk, as well as A Tribe Called Quest, Anderson .Paak, and Dave Grohl, and Alicia Keys and Maren Morris. As if we were going to watch anything else.