The Weeknd Was Spotted With Justin Bieber's Ex (And No, Not Selena Gomez)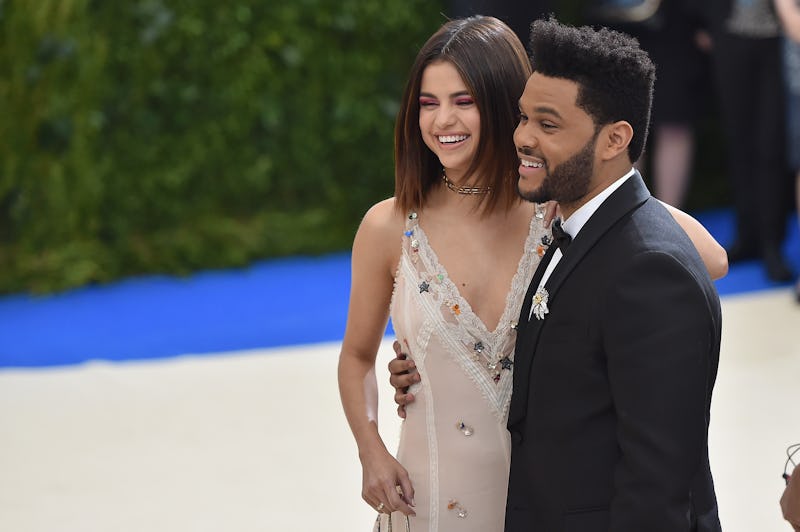 Theo Wargo/Getty Images Entertainment/Getty Images
The Weeknd and Selena Gomez split in late October in a flurry of Instagram unfollows, and the breakup was followed by a rumored reconciliation with an ex. It was a shock to fans, but Gomez might be back together with former boyfriend Justin Bieber. And not only that, but the plot thickened on Friday night when The Weeknd was seen with Bieber's ex fling (or, maybe-ex fling) Yovanna Ventura, as Us Weekly reports.
According to Us, The Weeknd arrived at French Montana's birthday party on Thursday with Ventura. "The Weeknd was there hand in hand with Yovanna Ventura all night," an unnamed source told the publication. "They arrived together. They were holding hands. He was there for a solid two hours with her and everywhere they went they held hands." The two were spotted out again on Friday leaving a nightclub.
Ventura is a model who got her start on Instagram before signing to Wilhelmina, as her Instagram bio notes. She was linked to Bieber back in 2014, and again in 2015, but it was never clear if they were actually in a relationship or if things were just casual.
As for Gomez and The Weeknd's breakup, their split was confirmed soon after Gomez was seen hanging out with Bieber again, but sources told People that the couple was over before she began spending time with Biebs. The relationship was long-distance, and this was reportedly the biggest factor in the split, according to an Us Weekly source. This story adds up; The Weeknd has been on the Starboy world tour for most of this year, while Gomez has been filming a movie in New York City.
The "Earned It" singer's night out with Ventura is only the latest installment in this breakup saga, but it's definitely the most bizarre development. The Weeknd and Gomez dated for 10 months, and during that time the two were spotted on romantic outings all over the world. The couple also appeared in each other's Instagram pics, and it seemed the relationship was getting serious. When Gomez was spotted with Bieber in late October, fans started to suspect the couple split. It was revealed not long after that The Weeknd reportedly unfollowed Gomez's close friends and family on Instagram, including her mother, her assistant, and her best friend Francia Raisa. This social media activity suggested the two were no longer close, and the breakup was confirmed not long after.
That said, two musical celebs may have parted ways amicably. The Weeknd hasn't unfollowed Gomez on Instagram, and according to Cosmopolitan, she even liked his photo wishing French Montana a happy birthday. This picture was taken the same night he was linked to Ventura. On Twitter, fans wondered if the friendly "like" meant that the two left things on good terms.
Seeing as they supposedly left things on good terms, it's more than possible that The Weeknd's public appearance with Bieber's maybe-ex isn't a retaliation. It's a small world after all, and Bieber and Gomez's rekindled romance isn't yet confirmed. Sure, the two have been spotted on bike rides, at hockey games, and even attending church together, but those can be friend activities, too. It's been a difficult year for Gomez, who revealed that she took a hiatus from music and acting to undergo a kidney transplant in June. Biebs could just be checking in on his longtime friend given her recent health complications.
One thing is certain, and it's that Gomez and The Weeknd's split seems complicated. Which star is dating their ex? And who is dating their ex's ex's ex? Phew, there are too many layers to this breakup, let's hope one of these stars takes mercy and offers some clarification on the situation soon.