This Season's 'Will & Grace' Guest Cast Includes Some Epic Callbacks To The Original Show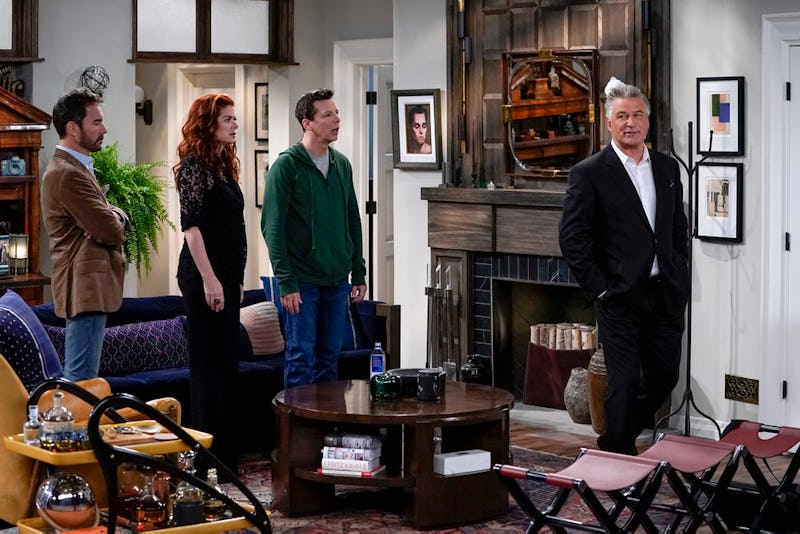 Chris Haston/NBC
After a successful first (but technically ninth) season, Will & Grace will return to screen Oct. 4 — this time only six months later, instead of, you know, 12 years. The revival has so far been a nostalgic comfort, but also a lot of laughs, thanks in large part to the enduring chemistry of the original cast and a bunch of fun guest stars who've helped to expand the universe. And the Will & Grace Season 10 guest stars are just as great.
Among those who popped up in Season 9 were Nick Offerman, Max Greenfield, Kate Micucci, Vanessa Bayer, and Broadway's Ben Platt and Cheyenne Jackson. Speaking of Broadway, original Hamilton cast member Anthony Ramos (who can also been seen giving the tiniest of claps to Lady Gaga's character in the Star is Born trailer) recurred as Grace's employee, Tony.
Plus, a number of celebrities reprised their guest roles all the way back from the original series, including Harry Connick Jr., Minnie Driver, Leslie Jordan, Molly Shannon, Bobby Cannavale, and Jennifer Lopez — the last of whom once again played herself, this time as the star of NBC's Shades of Blue (which, yes, is a real show). Basically, the Will & Grace guest cast is stacked.
For Season 10 — or Season 2, if you're counting it according to the revival — many of the exciting guest stars are actually repeat players. Most notably, Alec Baldwin will come back as Karen's lover, Malcolm Widmark, and Blythe Danner as Will's mother — both characters that appeared in the original show's run.
According to TVLine, Minnie Driver will also return as Lorraine Finster, Karen's arch nemesis. And Charles C. Stevenson, Jr. (pictured above with Baldwin and Megan Mullally) will return as "Smitty," the bartender whose sad life stories always made Karen laugh.
Sara Rue and Mary McCormack, who played Grace's sisters Joyce and Janet in the original series, are back for Season 10, too.
That said, there are plenty of new famous faces this time around as well.
First and foremost, there's the Ross of it all: Friends' David Schwimmer joins as Grace's love interest, a curious man named Noah (a.k.a. the West Side Curmudgeon). To be quite frank, it feels kind of blasphemous for someone even resembling the one true love of one beloved '90s sitcom romancing the leading lady of another, even though Schwimmer has had plenty of parts since. Will it ever be possible to see him without being reminded of Ross? We shall see!
Beyond that, TVLine reports, Matt Bomer will play one of Will's love interests — and you'll also see Jon Cryer, Chelsea Handler, and America's sweetheart Adam Rippon!
As the season gets going, more surprise stars will likely be revealed (fingers crossed for another Cher appearance!), but this is a solid starting lineup. If Will & Grace has made anything clear throughout its now two decade-long TV tenure, it's that it always has space for guests, each one more delightful than the next.