You're Going To Love This Edgy Take On Nail Art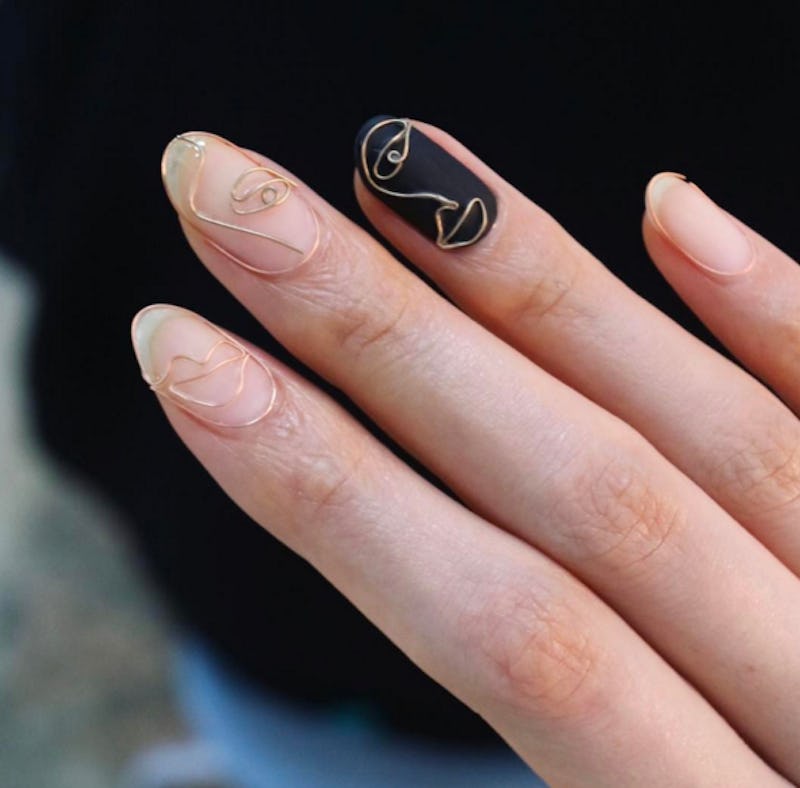 nail_unistella/Instagram
Nail trends come and go, but I have a feeling this one will be here to stay for a while. Because when you see what "the cool kids" are wearing nowadays, you're going to want to join in. Wire nails are the latest manicure trend, and let me just say that they will save you a whole lot of time when it comes to doing your nails!
Thanks to this newly popular look, you'll be able to skip the worst parts of a manicure. You know the ones: painting each finger, worrying about messing them up until they're dry, and then panicking to book your next manicure because the lacquer has started to chip. You won't have to deal with any of that if you embrace this look. Told you you were going to love this!
According to Marie Claire, you have Eun Kyung Park, founder of the Unistella Salon, to thank for this viral sensation. She used thin, small wires and clear polish to bring your new go-to look to life. Using a small pair of tweezers, she molds the strand into whatever shape she likes, according to Marie Claire. She's done everything from outlined the nail to create Picasso-esque shapes, all by bending a thin piece of metal. Once you see some of the work she's created — there will be no going back. Only wire manicures from here on out for you!
Each design is extremely simple.
Get ready to elevate your look in a major way.
The outlined version is everything! It's so chic, you guys.
Some of the looks are intricate, but it's worth the little extra bit of work for a mani that's this gorgeous.
This definitely takes a lot of the stress out of the painting process.
Park was also responsible for the shattered glass nail art trend, according to Cosmopolitan. In this video you can learn more about how she first got her start as a nail artist, which is interesting, especially since she'll be inspiring your polish style from now on! In the video, she also points out that making sure you take care of your fingernails is just as important as taking care of your skin. When you have a strong, healthy foundation, your lacquer will look better for longer. She suggests using a wipe to regularly clean the nail bed and cuticle regularly.
Following that cleaning tip will definitely make your wire manicure look all the better, since the only layer you'll have covering your nail is some clear polish. So, now that you're informed, grab some tweezers, wire and a clear top coat and get ready to sport the latest trend!