Meet The Women Behind Kanye West's Listening Parties & More Huge Music Events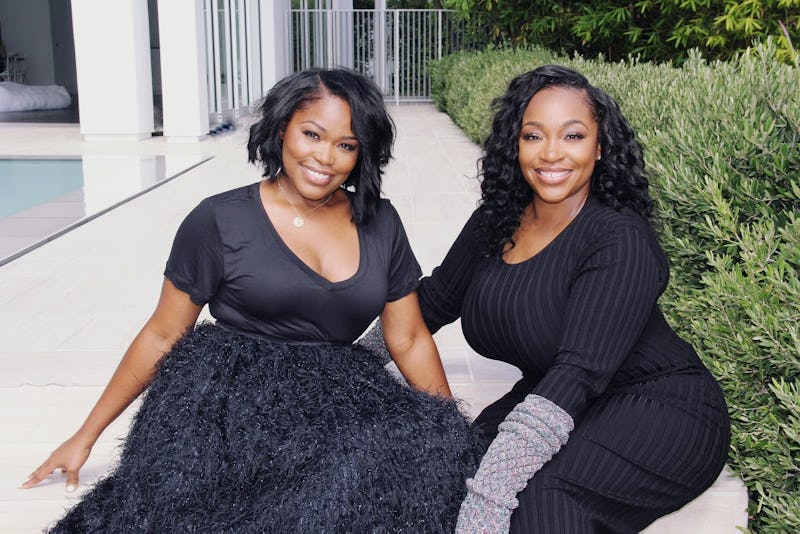 Ashley Harper
You might remember how, over the summer, Kanye West threw a huge listening party in Wyoming to drop his album Ye — and despite the last-minute invites, many celebs, from Jonah Hill to Lil Yacthy, were in attendance. It was quite a night, and it was due in large part to Miatta David Johnson and Massah David, sisters and founders of MVD, Inc., a boutique creative agency. The duo worked to make West's vision come to life, and have done the same for numerous other members of the music industry, from Teyana Taylor to Common to Pusha T.
"Working with Kanye, you always have to expect the unexpected, as you can imagine," David says when we chat over the phone in October. "He wanted everyone to come to him and really experience Wyoming and why he chose to be there to record, and why he was so inspired. He wanted to bring everyone into his world. So when someone thinks like that, they think so big, it's definitely inspiring, but it's also challenging and fun at the same time."
The women's rise to the top of their industry has been eventful, to say the least. After a coup in Liberia, the sisters was forced to seek asylum in America when they were just children. "Because we experienced something so traumatic at a really young age, and were able to see our parents come to the States and start all over again, we saw firsthand the real definition of resilience," David Johnson says now. In the early 2000s, while working as a financial reporter for the Wall Street Journal and Dow Jones, she began moonlighting for a friend who ran a music management company that helped artists like Outkast and Donnell Jones get media coverage. Soon, she realized how much she loved public relations and event planning, so much so that she quit her job as a reporter, dipped into her 401K, and launched MVD, Inc. in 2002 with her sister.
And thanks to word of mouth and positive reviews, the company grew quickly, with West becoming one of the women's first major clients. The sisters started referring to their events as "experiences" after they put together GOOD Music artist Big Sean's listening party for his first album, Finally Famous, in 2011, and realized the formula could work for others, too.
"[We were] trying to come up with a way to give guests an idea of who Sean was because he was a new artist and people didn't know that much about him," David says. "So we came up with the idea of taking it outside of the studio, which everyone was doing at the time, and that's just kind of how you did listening events for press. And we opened it up to not only press but tastemakers, radio personalities, and really made it an experience."
David Johnson explains that the sisters choose to use the term "experience" rather than "event" to capture the spirit of their work. "When people go to 'events', they may not have anything that they come away with. With us, we want you to really understand what the feeling is, the vibe, what we want you to walk away with from the minute you get the invitation to when you leave the door," she says. "And we want to make sure it has a lasting effect, as opposed to it being a one and done."
Over the years, the pair has done everything from put together Common's annual Toast to the Arts event — a pre-Oscars celebration of African American's artistic work — to collaborate with GOOD Music and Def Jam to produce a number of album listenings. MVD, Inc. has even branched out beyond music and entered the tech field, working with large companies like Samsung NEXT, for whom they'll be putting together a few events over the rest of the year. Yet although the women clearly have found major success, it hasn't been easy for them to rise the ranks as two black women in male-dominated Hollywood.
"It's definitely been challenging because I think you never really stop proving yourself," David says. "You're constantly fighting for why you deserve to have a seat at the table... at a certain point it definitely requires prayer, because people will try you, for sure."
"But really," she continues, "[it's about] just looking at what your ultimate goal is, and the bigger picture, and not letting one person or one situation stop you from what you're looking to accomplish. So, for us, I think we've always had a bigger picture idea in mind. And we really don't take no for an answer."
Finding a solid group of women also working to succeed in the music and tech fields has been a huge help to the sisters. "We've always worked really closely with women and they've always played a really big role throughout our career," Johnson says. "They have been an amazing sounding board, having like minded women around us that we can play different ideas off of or get advice from... having that tribe, and women that you can trust that really believe in you and in your vision has been extremely important."
And with the support of one another, as well, the two are trailblazing their way to the top of Hollywood's music world, spreading their brand with one unforgettable experience after another.