The Women Behind Susan Collins As She Announced Her Kavanaugh Vote Sent A Clear Message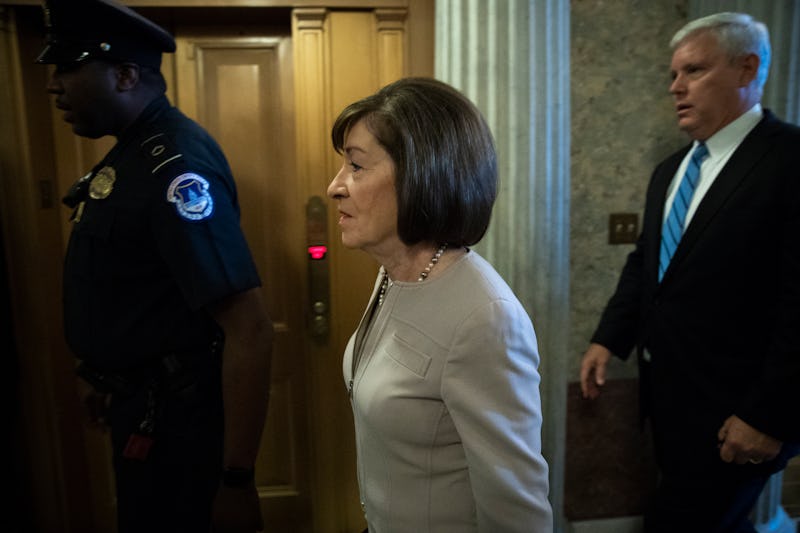 Drew Angerer/Getty Images News/Getty Images
As the senior senator from Maine announced her highly-anticipated vote on Supreme Court nominee Brett Kavanaugh on Friday afternoon, many viewers took note of the two women sitting behind Sen. Susan Collins during her Kavnaugh speech. They are Republican Sens. Shelley Moore Capito and Cindy Hyde-Smith — and their presence behind Collins was conspicuous, because according to some Senate reporters, that's not where either of them normally sit.
Collins announced that she will vote yes on Kavanaugh's confirmation to the court, and both Capito and Hyde-Smith support Kavanaugh's nomination as well. Collectively, the three of them make up half of all female Republicans in the Senate, and some suggested that Capito and Hyde-Smith were intentionally positioned behind Collins as an optics move — an attempt to signal that, despite the numerous sexual misconduct allegations against him, Kavanaugh is supported by women. Kavanaugh denies all of the accusations.
"Senators seats are assigned by seniority," NBC Capitol Hill reporter Leigh Ann Caldwell tweeted during Collins' speech. "Capito should be out of frame behind Collins. And Hyde Smith's assigned seat is in front of Collins. (Hers is more senior because she was appointed to fill the senior Thad Cochran's seat)."
"I don't believe that's where either Capito or Cindy Hyde-Smith sit in the Senate," MSNBC analyst Matthew Miller observed. "Quite the messaging ploy for this speech."
For months, the fate of Kavanaugh's nomination was in the hands of Collins and several other undecided senators. Ultimately, however, she emerged as the tie-breaking vote, largely because she was the last person to announce her position on him. Sens. Lisa Murkowski and Joe Donnelly announced earlier that they would oppose him, but Sens. Jeff Flake said that he'll vote for him — putting Kavanaugh past the 50-vote threshold needed to win confirmation.
"I have reservations about this vote given the serious accusations against Judge Kavanaugh and the temperament he displayed in the hearing," Collins said in a 40-minute floor speech. "However, based on all of the information I have available to me, including the recently completed FBI report, I have found Judge Kavanaugh to be a qualified jurist who will follow the Constitution and determine cases based on the legal findings before him."
Collins addressed Dr. Christine Blasey Ford's allegation that Kavanaugh sexually assaulted her when they were teenagers, which Kavanaugh denies. The Maine senator expressed sympathy for Ford but that she didn't think her account of Kavanaugh's behavior was corroborated.
"I found her testimony to be sincere, painful, and compelling. I believe that she is a survivor of a sexual assault and that this trauma has upended her life," she said. "Nevertheless, the four witnesses she named could not corroborate any of the events of that evening gathering where she said the assault occurred."
"Therefore, I do not believe that these charges can fairly prevent Judge Kavanaugh from serving on the court," Collins continued. "I will vote to confirm Judge Kavanaugh."
Prior to the vote, opponents of Kavanaugh set up a crowdfunding campaign to raise money for the Democrat who runs against Collins in 2020, assuming she seeks reelection. The campaign had raised over $2 million before Collins announced her position; after she did so, it crashed, possibly after receiving more traffic than its servers could handle.