The 'RHONJ' Talked About Marital Gender Roles & It Will Make You So Angry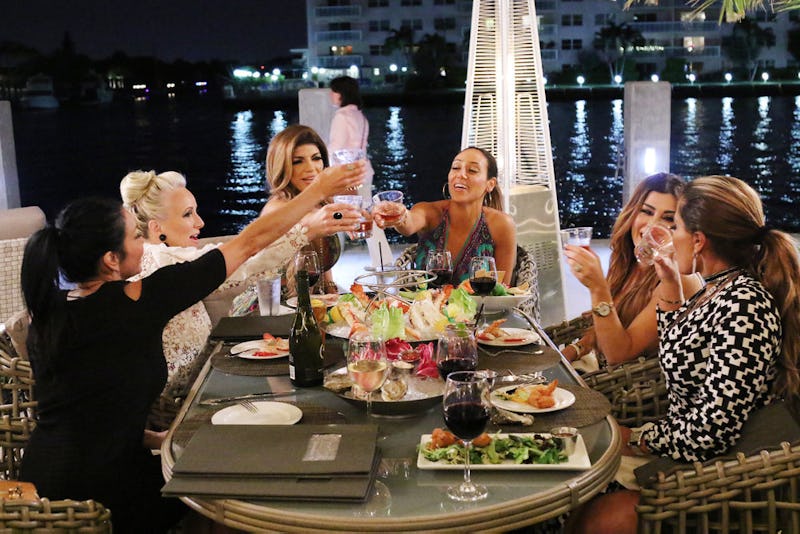 John Parra/Bravo
The Real Housewives franchises are more feminist than many give them credit for — even though a lot of the women start out as housewives, many start their own businesses and pursue their own projects, charitable and otherwise. And, others were already doing that before even joining the show. But the revolution is moving slower on one franchise. Some of the Real Housewives Of New Jersey are embracing feminism, and others, like Siggy, are more inclined to let their husbands make major family decisions, like who works outside of the home.
One potential reason for this old school branding is that some of the women have been raised and socialized with the belief that men work, while women raise the children and do the housework. This was evident when Melissa and Joe Gorga came onto the scene in Season 3. Melissa wrote a book, called Love Italian Style, in which she laid out how to be a great wife for a man who calls himself "traditional." In the book, she wrote:
"The routine of making dinner and keeping a clean house is how I stay grounded. It keeps me humble. Someone might look at Joe and think, 'Chauvinist pig.' He sounds like one sometimes! They might look at me and think, 'Throwback.' The way I see it, Joe is cleaning up messes at work all day long — things you can't wipe up with a sponge. That's his job. It's my job to clean up spilled milk. I just do it. There is simply no point to arguing about something that requires all of five seconds of my time and next to zero energy."
Melissa also talked a great deal about how Joe doesn't like coming home to an empty house or a meal not on the table; how he doesn't want her to work outside the home; and how a wife should have sex with her husband when he initiates it, because it makes him happy.
"Even when I'm exhausted and not really in the mood, if it means a lot to Joe that we connect physically, I'll say, 'I'm not so into it tonight, but let's go,'" Melissa wrote in Love Italian Style. She responded to critiques of the philosophies espoused in her book on her Bravo blog, saying, "It's about a man being a man, a woman being a woman, a man taking charge and a woman letting it happen -- consensually! There are times I play hard to get, and Joe knows those signals. But when I am not in the mood, Joe doesn't force me to do ANYTHING."
But in Season 7, Melissa opened her own boutique, and Joe really lost his you-know-what. He told her, in no uncertain terms, that he brings the "cake" into the family, and anything her business provides would be just "crumbs" and he didn't want whatever she made. Joe didn't want Melissa to work at all, and she was out of the house so much launching her business that the poor guy (I hope you feel the sarcasm) couldn't even get a home-cooked meal! Why should he have to cook for himself?!?
Once the boutique became a success, Joe apologized. Melissa had stood up for herself, and her business seems to be doing well. All of the women on Real Housewives Of New Jersey have businesses of some sort, but the conversation they had in Fort Lauderdale in the Season 8 premiere made it seem like some needed permission for someone else to run their own lives.
It started with Melissa talking about how Teresa, her sister-in-law, had told Joe before they got married that Melissa danced with a guy at her bachelorette party. Joe and Melissa didn't talk for three weeks. When Margaret, the newest Housewife said, "My husband is insanely jealous, also," Melissa responded, "I don't like to use the word 'jealous.' Joe is very old school and he's big on respect." (Um, OK?) Anyway, Siggy, who has a burgeoning self-help empire of her own, said, "That, to me, is a turn on." And then the party started. Here's the conversation:
Margaret: "Michael [Siggy's husband] wants you to cut back. Do you think that's controlling?"
Siggy: "Anytime that you marry a man who's a man [you should expect that]... I didn't marry a wussy. I didn't marry a p*ssy. I married a man. On the other hand, I think God gave me a gift. I think I'm the most talented human being on the face of the earth. I love to help people, and I'm torn because I'm helping people and Michael's not happy, and at the end of the day, I know what I'm going to choose."
I don't know what marrying a man has to do with exploring your talent and helping people, but here we are. Siggy probably wanted to end the conversation here, but the other women had questions.
Margaret: "But why can't you have both? Joe would love me to be home in the bed and everything else, but I also say to him, that's what makes me happy and this is my life, don't cut me off at the knees."
Melissa: "I've been through, and I went through this in the last year — it's borderline controlling."
Teresa: "If he knows that you're so passionate about this, and this is something you love, why does he want to take it away from you?"
With that, Siggy was cornered and yelled, "I can't talk about it anymore," then dumped her wine all over the table. While that is an easy way to get out of a conversation, she's not off the hook yet. As long as she has her business and the other women are around her, these are questions that Siggy is going to have to answer one way or another, even if it's just for herself. She loves her job and she loves her husband, and though she says that she knows which she'll choose, the other Housewives have given her the example that you shouldn't have to. You can and should have both, if you're willing to have an honest conversation with your partner.
Season 8 of RHONJ may bring that conversation, and many more, in finding the path of what these women want for themselves.