The Women's March Schedule Calls For An Early Day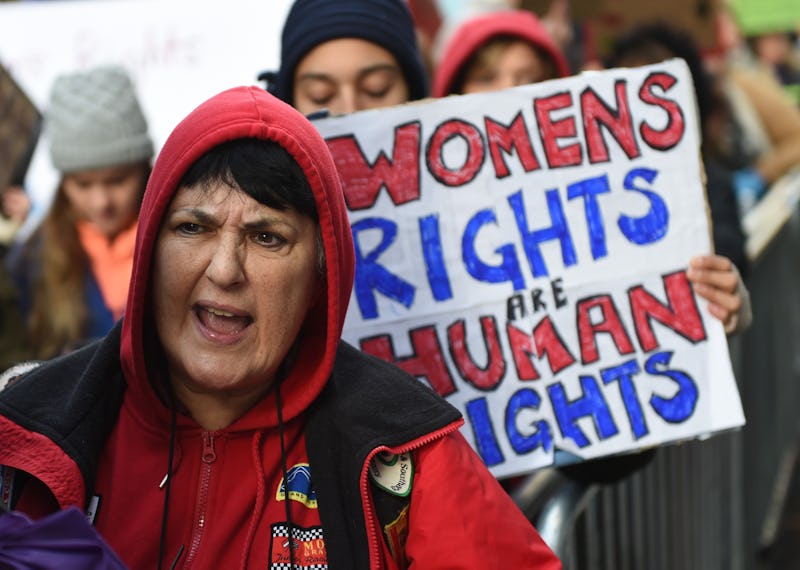 TIMOTHY A. CLARY/AFP/Getty Images
If you stop and consider how many people are headed to the Washington, D.C., area this weekend, it's staggering. The Women's March on Washington has taken that into consideration as they've prepared their schedule. Just getting everyone to the National Mall will be quite the logistical challenge. Metro trains have been added, stations are opening earlier, and private buses are being coordinated in advance. But even with all this preparation, it will take some time to get people in place and ready to march. That's why the Women's March schedule is planned so well — and it's a big incentive to wake up early and be on time.
Everything is organized to get people there by the time the march portion on the Washington Monument and Ellipse starts. That portion is set to begin at 1:15 p.m., but the speakers and musical performances will be before that, which gives attendees plenty of time to arrive. That's good for what will surely be crowded public transit, but also those who fly or drive in Saturday morning so that they can definitely make it on time. If you can, though, try and get there early because the hugely impressive lineup of speakers and musicians are set to take the stage at the rally beforehand, starting at 10 a.m.
That's when people like America Ferrera, Angela Davis, Gloria Steinem, Ashley Judd, Scarlett Johansson, Melissa Harris-Perry, and Michael Moore will speak. There are tons more speakers. Musical guests include the Indigo Girls, Mary Chapin-Carpenter, and Janelle Monáe, just to name a few. The rally will run until the march begins at 1:15 p.m. That gives people wiggle room if they arrive late — they won't miss the march.
If you're able, though, go even earlier. The Washington Post reported that the activities will get started at 8 a.m., with images and videos up on display. Then at 9 a.m. begins the pre-rally with "speakers, music and public service announcements," according to the paper. That will ensure you don't run into any snafus on public transit — and if you do, you'll have time to spare. Plus you'll get a spot closer to the stage.
Some other important tips: The meeting point is Independence Avenue and Third Street SW. But, you need to enter the area from an official entry point. Those are going to be held along both sides of Independence Avenue but further down the street, at the corners of Fourth, Sixth, Seventh, Ninth, and 12th Streets.
Plus, don't forget to bring some food with you, especially if you arrive early. You'll want snacks to get you through the end of the march. Only small bags are allowed unless bigger ones are clear or see-through. That applies to people bringing cameras and other recording equipment too — so make sure to pack correctly and be prepared.
The moral of the story — and the schedule — is to show up as early as you can. That way you can enjoy all the great programming before the march kicks off at 1:15 p.m.