This YA Romance Was Written By An IRL Couple & They Got Engaged In A Bookstore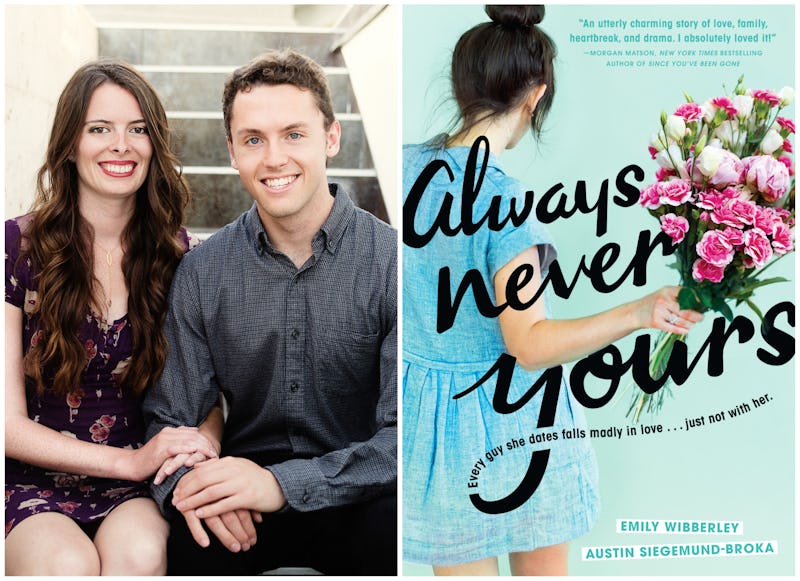 Photo of Emily Wibberley and Austin Siegemund-Broka, courtesy of Sue Grubman
Does it get any sweeter than a good old-fashioned YA contemporary rom-com? For the co-authors of Always Never Yours, Emily Wibberley and Austin Siegemund-Broka, the answer is a resounding yes. Because not only are they a real-life couple who have been together since high school, they just recently got engaged... at a bookstore. If that all sounds too good to be true, you probably haven't been reading enough love stories, but picking up Wibberley and Siegemund-Broka's debut collaboration would be a great place to start.
"I definitely never imagined we would share a career, let alone a writing career," Wibberley tells Bustle. "Now, in hindsight it makes so much sense. My parents also happen to be a married writing team (of screenplays), and my grandfather was a novelist. I spent much of my life really not planning to follow family tradition, hence [my] psychology degree. When I did find myself drawn back to stories, one thing led to another, but if you'd asked me in high school about sharing a writing career with Austin, I would have been more concerned with whether we were going to survive four years of long distance in college."
It is these very-real teenaged concerns of love and life that occupy Always Never Yours, which follows Megan Harper, who considers herself "the girl before." All her exes find their one true love right after dating her. But Megan refuses to waste time feeling sorry for herself. Instead, she focuses on pursuing her next fling, directing theatre, and fulfilling her dream school's acting requirement in the smallest role possible. But her plans quickly crumble when she's cast as Juliet — yes, that Juliet — in her high school's Shakespeare production. It's a nightmare. Megan's not an actress, and she's certainly not a Juliet. Then she meets Owen Okita, an aspiring playwright who agrees to help Megan catch the eye of a sexy stagehand in exchange for help writing his new script. Between rehearsals and contending with her divided family, Megan begins to notice Owen and wonders: Shouldn't a girl get to play the lead in her own love story?
Always Never Yours by Emily Wibberley and Austin Siegemund-Broka, $14, Amazon
Shakespeare has long been an influence for Wibberley and Siegemund-Broka. It was a shared love of The Bard that first helped bring the couple together back in high school, so it only makes that they would take inspiration from themselves for Megan's own romantic journey. But, why Romeo & Juliet?
"We found an engaging challenge in both questioning and endorsing Romeo and Juliet, beginning with a character who rolls her eyes at 'true love' and ending with her realizing you need to risk your heart for who and what you love," Broka says. "We both feel the play is misunderstood. There's the group who thinks it's nothing but a wonderful love story, which ignores the conflict and the questionable impulsiveness of the characters. Then there are the cynics, who think it's a testament to how overdramatic teenagers are. The truth is, it's both."
Another slightly unexpected aspect of the book? It's written entirely in Megan's voice — meaning that Wibberley and Siegemund-Broka weren't able to separate their work load by switching off POV's or by alternating chapters. They simply, well, wrote it together.
"We wrote every single word of Always Never Yours together," Wibberley says. "I take the computer, and Austin paces the living room, and we work things out. I don't know if that's the most conflict-free way to write with someone else, but it's how we got the voice consistent."
Whether or not the writing process has been entirely conflict-free for Wibberley and Siegemund-Broka, it seems that the recently engaged couple are in sync in more ways than one. The story of their engagement is a literary lover's romantic dream come true: Siegemund-Broka surprised Wibberley by popping the question at independent romance bookstore, The Ripped Bodice, in Culver City, CA.
"I thought and thought about what would be the perfect place to propose. Finally, I chose The Ripped Bodice for a number of reasons," Siegemund-Broka says. "For one, the place is beautiful, impeccably decorated with bookish details. [Secondly], from our writing career and before then, I knew books and stories were one of Emily's fundamental, dearest passions. But finally, The Ripped Bodice in particular is the country's only brick-and-mortar bookstore devoted exclusively to romance literature, founded and run by two sisters, and it epitomizes ideas and values meaningful to us both — pride in romance writing and popular fiction, and the importance of art and literature created and consumed by women."
But even as the two have worked through their solo early high school love woes through penning Always Never Yours — "Even though Austin and I got together in high school, it wasn't until our senior year. That meant three whole years of watching my friends and the people around me pair off and feeling like a witness to others' great romances, much like Megan," Wibberley says — they're still finding new ways to work through their writing, together.
"We're definitely continuing to grow and continuing to adapt to each other becoming better writers," Siegemund-Broka says. "We're practicing in the company of each other. I think Emily's definitely realized I have really picky tendencies when it comes to word choice. Conversely, I'm learning to trust her even on questions where I have unwavering opinions. It's not easy — but overall, realizing your partner is an even better writer than you knew is a really nice 'problem' to have."