The 13-Year-Old Guitarist At The Olympics Closing Ceremony Has Twitter OBSESSED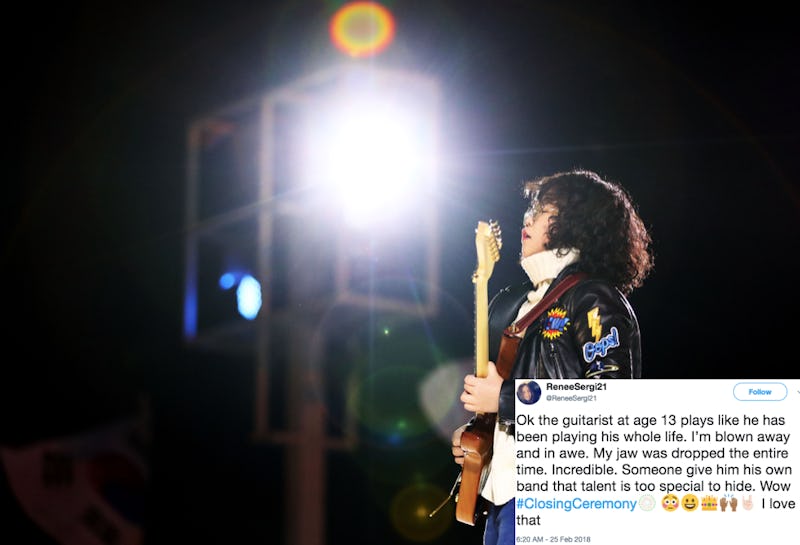 Dean Mouhtaropoulos/Getty Images
All good things must come to an end. That includes the 2018 Winter Olympics. It seems like only yesterday the world's premiere sporting competition kicked off in PyeongChang, South Korea and now athletes from across the globe are saying goodbye to the games. Musicians and performers from all over came to showcase their talents at the closing ceremony, and one of the stars — the guitarist at the 2018 Olympics Closing Ceremony — has Twitter completely obsessed.
The 13-year-old guitarist Yang Tae-hwan instantly had the crowd mesmerized when he stepped in front of the Olympic torch and whipped out an electric guitar. Instead of serving up a beloved K-Pop song, the prodigy subsequently began a stellar performance featuring classical music. He played a section of the famous baroque symphony by Vivaldi known as the The Four Seasons, which is traditionally played by four violinists. Tae-hwan focused his efforts on the "Winter" portion — incredibly fitting given the temperature in PyeongChang was a cool 31 degrees Fahrenheit.
And if there's one thing that deserves to start having its own gold medal ceremonies at the Olympic games, it's the technicolor light effects and choreographed routine extravaganza in the opening and closing ceremonies. As Tae-hwan rocked out to the beat, a swarm of dancers dressed in light-up suits surrounded the stage. Taking the performance a step further, the dancers continued to show off their own athleticism, doing cartwheels and more while also being suspended from a slope at the side of the stadium with bungee cords. It was the perfect complement to Tae-hwan's out-of-this-world performance.
But beyond his performance in the closing ceremony, evidence on YouTube shows Tae-hwan isn't new to marveling folks with his guitar. He's been dazzling on the strings and putting rock bands to shame since he was at least nine or 10 years old. A frequent collaborator with his also-talented sister, Tae-hwan regularly shreds on the guitar for the camera while his sister sings. And if they aren't the most awesome brother-sister, musical duo, then I don't know who is.
Unfortunately, the world only got to see one of half of the talented pair perform at the 2018 Olympics Closing Ceremony, but nonetheless, viewers were more than wowed. In fact, Twitter couldn't stop raving at Tae-hwan's prowess on the stage.
Some were inspired by his stellar sense of style — consisting of a chic, black moto jacket covered in bold and bright patches, and a pair of matching leather boots. "My new aesthetic is 100% going to be this guitar player at the closing ceremony," one Twitter user wrote.
Others were simply in awe of his undeniable talent. "If aliens come to Earth tomorrow and want proof of our intelligence, let's bypass the camera phones and sh*t and just show them that 13-year-old guitarist. I mean, f***," another user wrote.
And another user commented and said what we were all seriously thinking: this kid needs a record deal/rock band like STAT. "Ok the guitarist at age 13 plays like he has been playing his whole life. I'm blown away and in awe. My jaw was dropped the entire time. Incredible. Someone give him his own band that talent is too special to hide," they tweeted.
The musician was first discovered on an episode of Star King, a South Korean talent-competition series, according to NPR Asia correspondent Elise Hu. The journalist posted the fun fact in a string of tweets relating to the 2018 Winter Olympics. She also noted that Tae-hwan is a native of the Gangwon province, the host area to the Winter Olympic games.
And given how the crowd and viewers at home couldn't get enough of Tae-hwan and his electric guitar, the Olympic committee should consider letting him perform at every closing ceremony from here on out. Because seriously, who wouldn't tune in to see a 13-year-old guitarist rock out all the time if they could?
This article was originally published on