'GoT's Theon Greyjoy Brought An Adorable Puppy To Comic-Con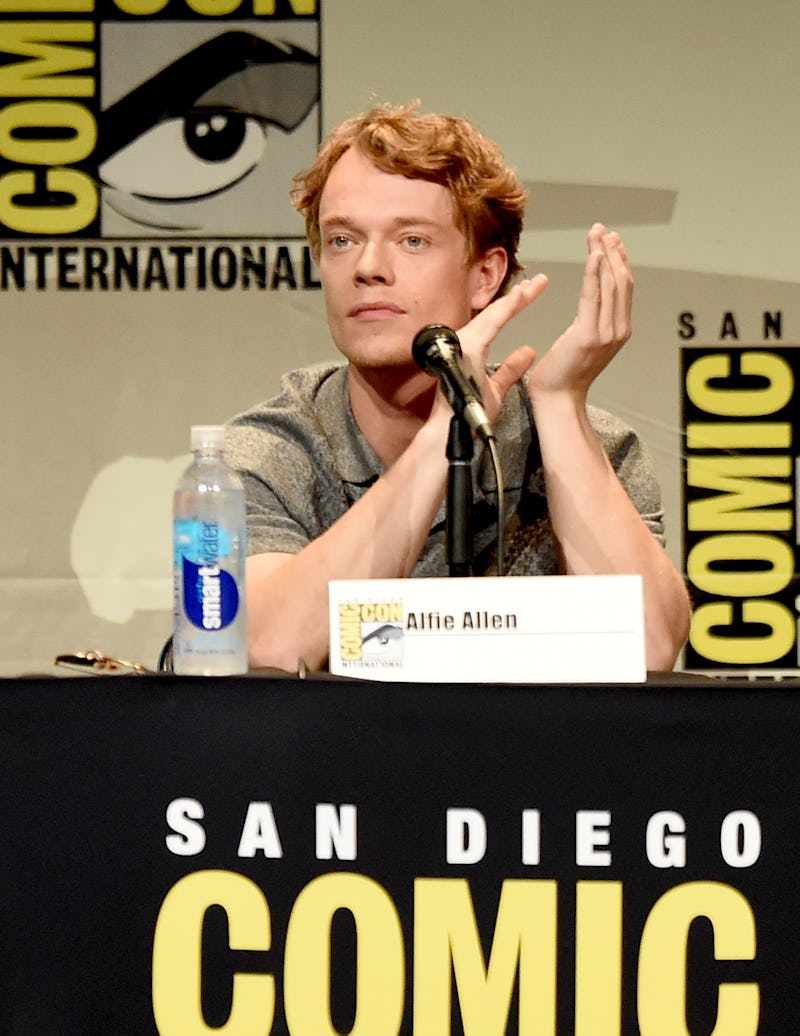 Kevin Winter/Getty Images Entertainment/Getty Images
Winter has taken over San Diego Comic-Con, and a blizzard of Game of Thrones content has descended upon the annual event. And some of that content was flat-out adorable (yes, we're still talking about GoT). During the HBO fantasy show's panel at the convention on Friday, Kristian Nairn advised against holding doors, Sophie Turner gave carbs a shoutout, and Liam Cunningham mentioned Cersei Lannister's favorite beverage. All three moments were a treat, no doubt about it. However, there was one moment that was so precious, it all but stole the show. And that was the moment when Alfie Allen showed up to the GoT panel cradling a puppy. Thanks to the Comic-Con attendees gracious enough to tweet about it, those of us at home can enjoy some pics of Theon Greyjoy holding Abby the dog during the Game of Thrones Q&A session.
Fair warning: While the photos below do not give away any Game of Thrones spoilers, they are incredibly cute. Nay, overwhelmingly cute. Your heart may feel like it could sprout dragon wings and fly off to Essos at any minute. Or like it could warg with a direwolf. Or like it could trounce Cersei in a vino-chugging competition. In other words, the pics will make your heart feel like it could do literally anything. That's how cute the photos are.
Here's Theon Smiling From Ear-To-Ear
Can you blame him?
Oh, & Here's Theon Cradling Abby
Abby's hind legs!
Another Pic Of The Cradle Move
For good measure.
Here's Abby & Gwendoline Christie
Would watch Theon, Brienne of Tarth, and Abby hang out for a full episode.
Want To See What Abby Looks Like When She's Peeking Out From The Crook Of Theon's Arm?
Here you go.
Abby Will Rest Her Eyes Whenever She Dang Well Pleases, Thank You Very Much
Being the star of a panel must be exhausting.
Finally, A Video Of Abby Ruling Comic-Con
Watch out, Cersei. Abby's coming for your throne.
Sorry to the rest of panelists, but this is Theon Greyjoy and Abby's panel now.