Gwendoline Christie's 'GoT' Comic-Con Comments Are All About Women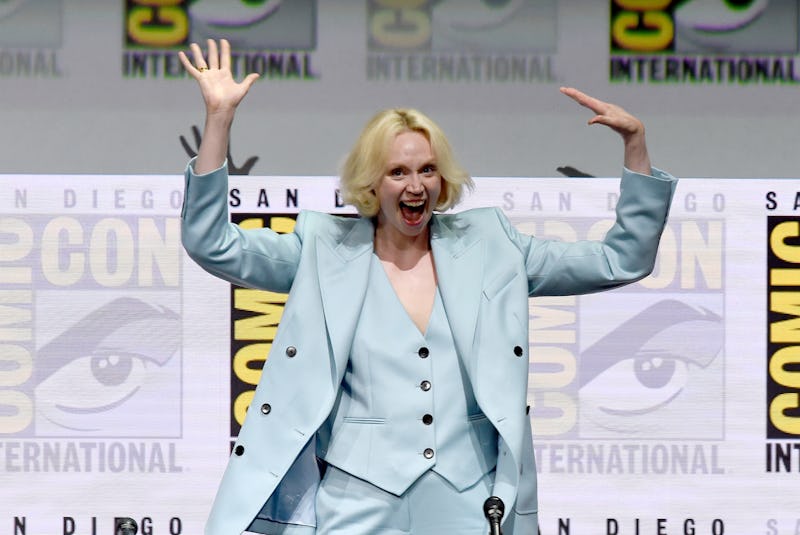 Kevin Winter/Getty Images Entertainment/Getty Images
Friday's Game of Thrones panel at Comic-Con saw a portion the cast coming out to give fans better insight into the show they've been a part of for years. In the case of the actor who plays Brienne of Tarth, Gwendoline Christie, the emphasis on the power of women in the show was a revelation that was so exciting to see. Christie's remarks, which centered around her character's uniquely female perspective, included the one law Brienne would pass if she sat on the Iron Throne. At another point, Christie discussed why Brienne's connection to Catelyn Stark is so meaningful.
According to tweets from attendees, one of Christie's first remarks during the Game of Thrones panel — hosted by actor Kristian Nairn (who played Hodor) — was about which law she'd want to pass as ruler of the Seven Kingdoms. There are definitely a lot of things one could do to get Westeros' act together, but Christie's law was probably the most exciting: Let women be knights. Oh, heck yes, that sounds like an excellent law, no matter which way you slice it. Westerosi women taking a page out of Brienne of Tarth's playbook, should Brienne ever find herself on the Iron Throne, sounds like a mighty fine change to the way things are done in this fantasy world.
The actor also gave insight into Brienne's personal growth on the massive hit television show. By commenting that Brienne's close relationship with Catelyn Stark "was the first time that she [Brienne] realized strength in another woman," Christie managed to hit on why women banding together in Game of Thrones is so important.
Forget the strategic advantages of women coming together to one-up their enemies. It's women working together and helping to support each other that brings strength, unity, and a stronger sisterhood on the show. That, my friends, is something worth fighting for, especially when women are so frequently underestimated on Game of Thrones.
All in all, Christie's remarks during the panel emphasized the power of women on Game of Thrones. They also hinted, ever-so slightly, at what we could expect from female characters going forward: strength in numbers. The age of women may have finally dawned on Game of Thrones, and it's truly awesome.