Therapists Say These 15 Shows & Movies On Netflix & Amazon Prime Can Boost People's Moods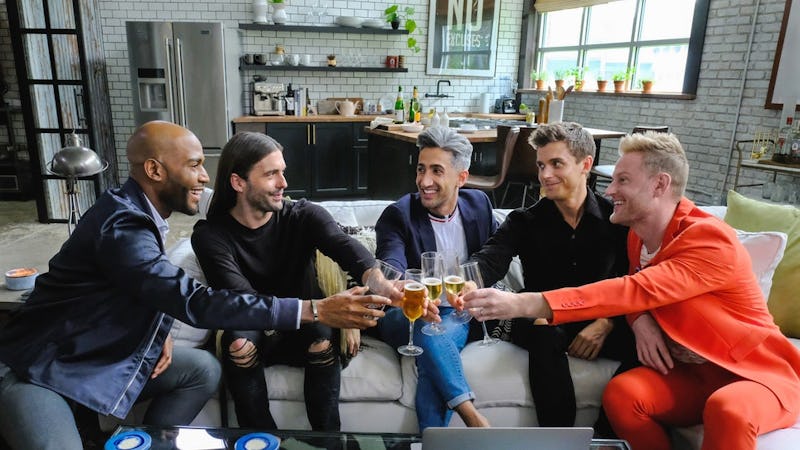 Carin Baer/Netflix
Nothing's more relaxing than settling in to watch a great show on Netflix or Amazon Prime. But what makes this ritual even better? The fact therapists have found certain shows can actually boost your mood, and in some cases, may even lessen the symptoms of Seasonal Affective Disorder (SAD).
"SAD is a complex winter-related malady that recurs each year, most likely triggered by the lack of sunlight in winter, which affects levels of hormones melatonin and serotonin in the part of the brain (hypothalamus) controlling mood, sleep, and appetite — our circadian rhythms," UKCP registered therapist Elaine Slater, who was recruited by SpareRoom to help conduct a survey into how TV shows can combat SAD, tells Bustle.
While Slater says taking in natural sunlight, getting plenty of exercise, and eating a nutrient-dense diet can help alleviate symptoms, so can watching the right shows on Netflix and Amazon Prime. To figure out which were best for SAD, Slater looked for ones that met certain criteria. Shows that inspire hope, follow a character as they overcome challenges, and ones with messages about community and belonging, made the list, as well as ones that were simply fun to watch.
By following along as characters displays these traits, Slater says you can feel uplifted, inspired, and connected. But sometimes, even the simple act of having a fun show to look forward to, at the end of a wintery day, can be a big help, too. In no particular order, here are the shows and movies that were found to boost people's moods.