This Dany Stormborn Jewelry Collection Is Dragontastic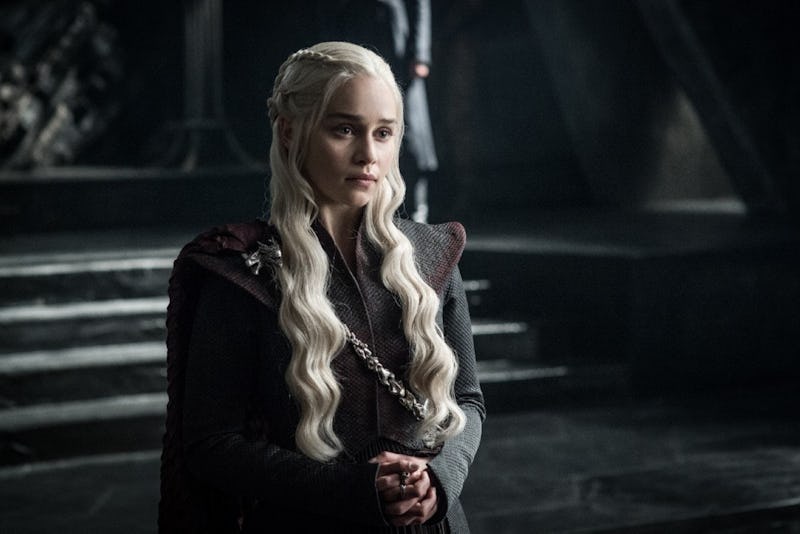 Helen Sloan/HBO
Want to get your hands on a bauble that will melt your jewelry box like a dragon exhaling right after it downed two bottles of Sriracha? Thanks to the latest offerings from MEY Designs, Game of Thrones fans can wear jewelry that'll bring out their inner Daenerys Targaryen. GoT costume designer Michele Clapton and jewelry designers Yunus Ascott and Eliza Higginbottom have created a new Dany Stormborn-inspired collection. The GoT collection can be found on MEY Designs' online shop.
This is not MEY's first foray into the Westeros jewelry scene: Clapton teamed up with Yunus & Eliza to create that stunning sculpted dragon necklace that Dany wore in Season 5. Replicas of the Mother of Dragons' dragon choker, as well as several other GoT jewels, were made available to purchase.
While all of the items featured in the Breaking Chains range are cool, the star of the show would have to be the exact recreation of Dany's Mother of Dragons Chain. Without question. Weighing in at 640 grams, the Sterling Silver sash is a gorgeous and powerful accessory fit for a queen and for those who would like to channel that queen.
Between the dragon heads at the shoulder and the dragon spine links, this thing is sure to take any outfit up several notches. Throw it over a sweater, a gown, a T-shirt, a onesie, a cloak that'll keep you warm in the dead of Winterfell winter — whatever feels right.
If you are down to shell out a few thousand clams (and oysters and cockles), this little beauty could be yours.
In the market for something that's gentler on the pocketbook? MEY developed some necklaces, rings, and bracelets that all pay homage to The Breaker of Chains but cost a lot less than the body chain. A personal favorite: the Dragon Pendant.
Not one, not two, but three dragon heads? Yes, please and thank you. Would be honored to pair this necklace with a sweater, a gown, a T-shirt, a onesie, or a cloak that'll keep me warm in the dead of Winterfell winter.