14 Ivanka Trump Tweets That Are So Ironic Now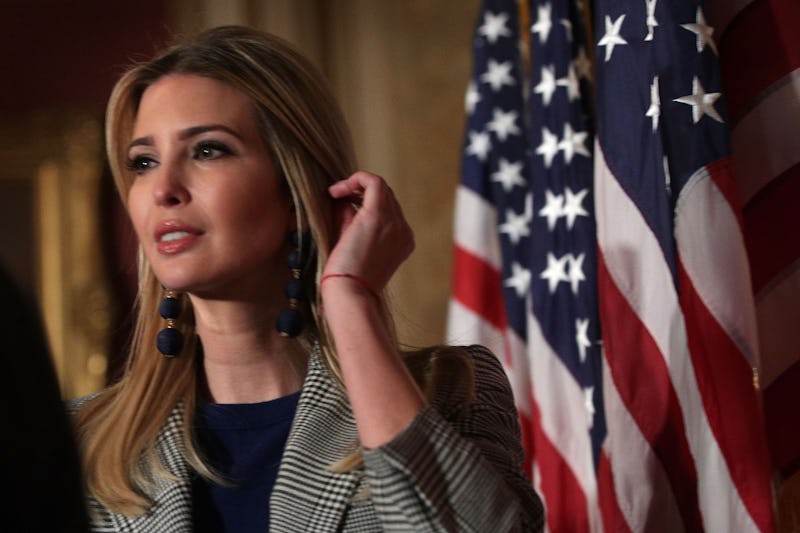 Alex Wong/Getty Images News/Getty Images
After riding on the coat tails of nepotism to an official White House job, Ivanka Trump has had a hell of a time assuaging her dad's controversial public persona. While critics have blasted Trump for his open belligerence and lack of savvy in foreign affairs, Ivanka is seen as the poised and more progressive half of the father-daughter duo. And while Trump's tweets range from angry attacks on peaceful protestors and the media to completely nonsensical (covfefe, anyone?), Ivanka's tweets come across as ironic when they clash with the president's views.
But first, some context on Ivanka: The mother of three reportedly swayed Trump on family leave policy and has been working quietly behind the scenes to guide her father in the White House, even sitting in on meetings with world leaders (like at the G20 summit). This is despite the fact that, like Trump, her background in politics and policymaking prior to the 2016 Election is woefully nonexistent. The same can be said for husband Jared Kushner, who was minted a senior adviser to the President and White House Innovations Director this year.
Ivanka herself claims to be a feminist, a champion for working women and mothers, as indicated by her self-help book Women Who Work. On top of running her own fashion line under the Ivanka Trump brand, Ivanka has also supported humanitarian and educational causes over the years — from combating human trafficking to closing the skills gap and promoting women in STEM fields. Journalists have gone as far as proclaiming Ivanka the "real" First Lady in Washington.
But for all her smooth talk, Ivanka has done little to denounce Trump's plans to hurt the people she supposedly wants to empower. Her positive words and activities can't be ignored, and true, she and her father are not one in the same. But there's often a tinge of irony surrounding her statements when you consider her complicity in boosting the Trump administration. Or non-responses in times when we need the president to step up.
Cue: a lot of unintentionally ironic tweets.