These Statistics Prove Trump's Family Separations Didn't Do What Officials Expected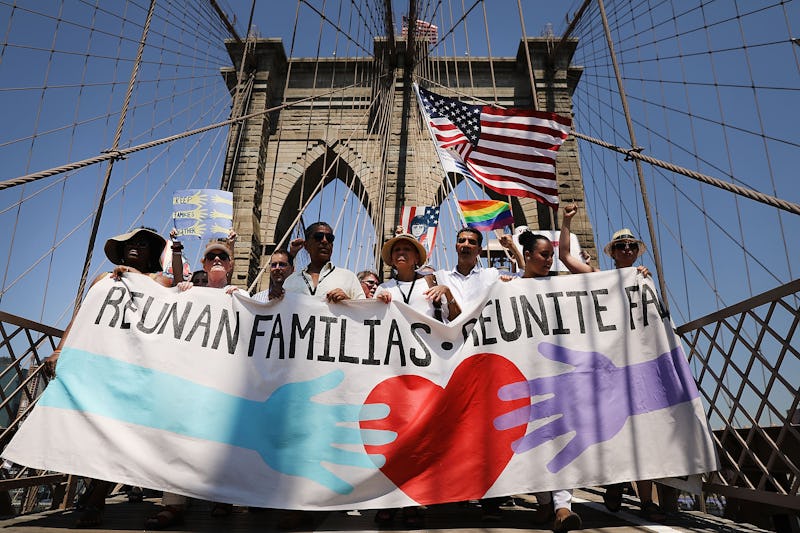 Spencer Platt/Getty Images News/Getty Images
New data released Wednesday by U.S. Customs and Border Protection show that Trump's "zero-tolerance" policy, leading to the separation of families at the border, didn't work the way officials expected. These particular 2018 immigration statistics suggest Trump's policy hasn't had a huge effect on the number of immigrants crossing the border. In fact, that number has remained pretty steady throughout the past few months.
According to the data, more than 9,200 families were apprehended at the border in July. A similar number were apprehended in each month prior, despite the Trump administration's decision to regularly separate families at the border. Since the start of the "zero-tolerance" policy in April, over 9,000 families have been apprehended at the border each month. Between then and July, there was a roughly 4 percent decrease in family units being apprehended. There was a greater eight percent drop in the number of unaccompanied minors crossing.
Since April, over 2,000 children have been separated from their families as the parents were sent to federal jail. The practice created an uproar in the American public and caused a humanitarian crisis at the border.
After facing an incredible amount of backlash, he signed an executive order in June stating families are to be detained together instead of being separated. But when he was asked about the chaos surrounding family separations in July, he told CNN, "Tell people not to come to our country illegally. That's the solution. Don't come to our country illegally."
The practice doesn't seem to have deterred families seeking a better life in the United States, according to the statistics. The overall number of border apprehensions may be on a downward trend, but they're still higher than they were at the beginning of the year, before the implementation of the "zero-tolerance" policy. In FY2017, a total of 303,916 individuals were apprehended at the southwest border. This year, just 10 months into FY2018, border control has already apprehended a total of 317,571 individuals.
"The fact that people are coming in higher numbers shows his immigration strategy isn't working," Simon Rosenberg, executive director of NDN, a liberal think tank, told The Washington Post. "We do not see any obvious manifestation of self-deportation happening here."
A federal judge ordered the administration to reunite the families that had been separated, but the deadline has passed, and hundreds of children still remain separated from their parents, The Washington Post reports.
And some of those who have been reunited face troubling results from their months apart. The New York Times, for instance, wrote about several young children who didn't recognize their parents when they were returned. "I want Miss. I want Miss," one 3-year-old girl reportedly cried, rejecting her mother's embrace and calling for the social worker who cared for her during her time at the shelter.
Celebrities are now targeting Trump's daughter and White House senior adviser, Ivanka Trump, in an Instagram campaign, urging her to take action in reuniting these families. Amy Schumer, Chelsea Handler, Sophie Amoruso, and others on Ivanka's "following" list shared an image with a message addressed to Ivanka.
"You said family separation was a 'low point' for you. The low point is for the separated families. You spoke in past tense. This crisis is ongoing," the message reads.
The message continues to outline the atrocities separated families have been forced to go through, and calls for the resignation of Homeland Security Secretary Kirstjen Nielsen.
As these families remain apart, still more arrive at the border each month, seeking asylum and safety.