Science Says These Daily Activities Can Give You The Same Feeling As Being In Love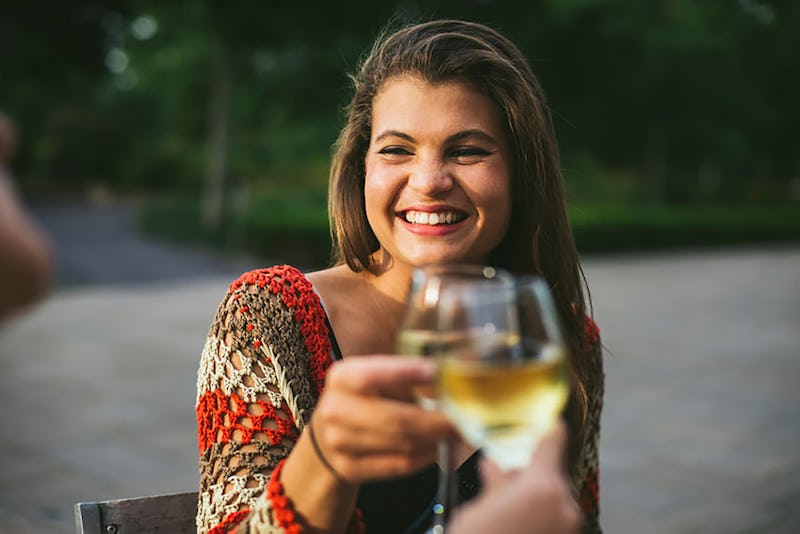 GIC/Stocksy
There is nothing quite like the moment you fall for someone. The butterflies in your tummy, the automatic smile when you see them, the inability to talk about anything but them. It can be a lot. And while all this may feel like such the illogical work of the heart, it is, in fact, the work of the brain. But now Bloom & Wild have conducted a study to reveal what other things can cause the same release of chemicals as love. Because everyone deserves to feel those euphoric feelings this Valentine's Day, whether they're in love or not.
For the study, researchers at London Metropolitan University split their group of 30 volunteers into three smaller groups, each of which received gifts of flowers, chocolate, and water, respectively. The researchers took saliva samples before the gift arrived, 10 minutes after the delivery, and 40 minutes after the delivery. The researchers used the saliva samples to measure volunteers' oxytocin levels. Oxytocin, which is also referred to as the "love hormone", is "produced when people are in a loving, happy relationship and from sex. It also has anti-anxiety and stress reducing effects," Bloom & Wild reports in a statement issued along with the study. They also wrote: "Research suggests that people in the first three stages of love reported higher oxytocin levels that last for around 6-12 months."
The study found that chocolate had the biggest impact when it came to inducing feelings of love. The volunteers who received chocolate showed levels of oxytocin increase by 73.36 pg/ml, while those who received flowers were just behind with an increase of 61.89pg/ml. Water ranked last, with a 50.7 pg/ml increase.
So, it turns out that chocolate, flowers, and even water can make us feel as warm and fuzzy as those first few days of falling in love.
Sara Gordon, VP of Brand & Design at Bloom & Wild, said:
"When it comes to Valentine's Day, we usually turn to our partners for love and affection. However, as our study reveals, we can create the same feeling in other way."
So, whatever you're doing this Valentines Day, here are a few things that are sure to make you feeling amazing.