People Around The World Are Tweeting Their Support For Legal Abortion In Argentina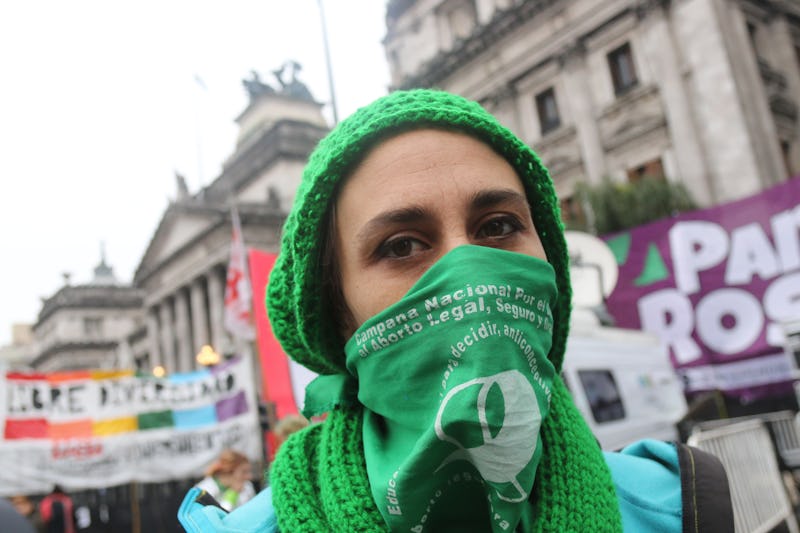 Getty Images/Getty Images News/Getty Images
Argentina lawmakers will decide on Wednesday, Aug. 8, whether or not to legalize abortion in a country where it's been criminalized for over a century. The procedure is currently allowed only if the woman's life is in danger or in cases of rape. As the nation awaited the Senate's decision, women around the globe showed their support for Argentina's fight to legalize abortion through #AbortoLegalYa tweets.
Argentina's lower house of Congress narrowly passed a bill to legalize abortion through 14 weeks of pregnancy in June. The proposed legislation would make the procedure accessible through the free public health system and notes the physical danger women face when they try to obtain illegal abortions.
"We want to send a message to Argentina's senators that the world is watching to see whether they will do right by women and end the grave suffering caused by criminalizing abortion," Erika Guevara-Rosas, Amnesty International's Americas director, said in a statement released before Wednesday's vote.
More than a million Argentinian women were expected to protest outside Congress as senators debated the issue, The Guardian reports. To let them know they aren't alone in their fight, women and men from other countries tweeted their support for the bill to decriminalize abortion in the largely Catholic nation.