This Weekend's Partial Solar Eclipse Will Force All Zodiac Signs To Let Go Of The Past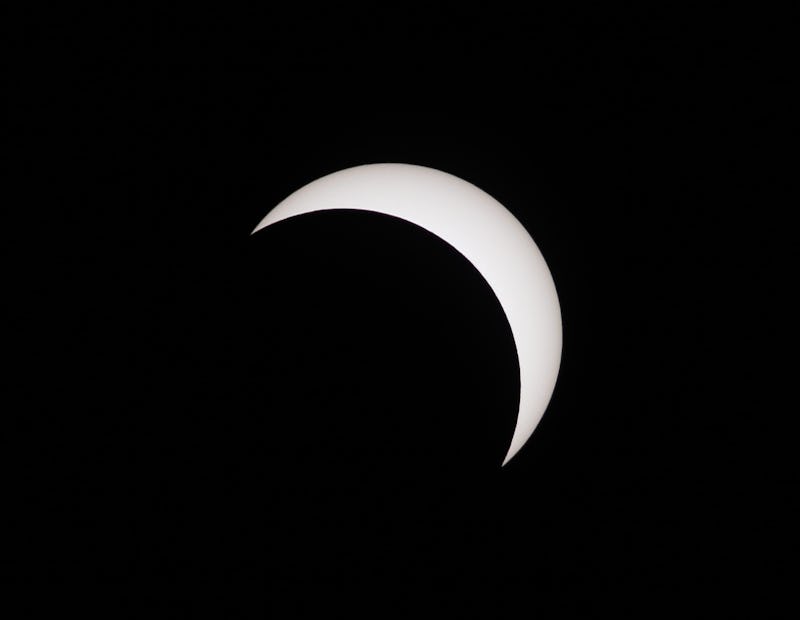 George Frey/Getty Images News/Getty Images
On August 11, a new moon will rise, signaling the end of one moon cycle and the beginning of another. It's not just a new moon, though — it's also a partial solar eclipse. A partial solar eclipse happens whenever the sun, the moon, and the Earth are not perfectly aligned in a straight line. In the case of a partial solar eclipse, the moon moves so that it covers a small piece of the sun. This is certainly a very cool thing to see in the sky, but it also has a deeper meaning. Like any other astrological phenomenon, the partial solar eclipse has some spiritual meanings that are going to affect your life.
A new moon also has spiritual meaning of its own. According to Gostica, "New moon energy can be powerful. Tapping into this energy can support your dreams and desires." A new moon is the start of a new moon cycle, and so it makes sense that it represents changes, or the desire for change, in our lives. New moons give off a vibe that makes you want to do something different, close old chapters and open new ones, and move towards the future in a positive way.
Solar eclipses, however, are a little different. This particular solar eclipse is happening during Leo season, and also during Mercury retrograde, which may throw things off a bit. Leo season is known for being bold and flashy, while Mercury retrograde can mess with communication and little details. Mercury retrograde is also known to be a time when starting something new isn't the best idea, making this eclipse quite different. So what can you expect? We've outlined some of the spiritual meanings of this partial solar eclipse below.