Authors Cancel US Visit After Immigration Order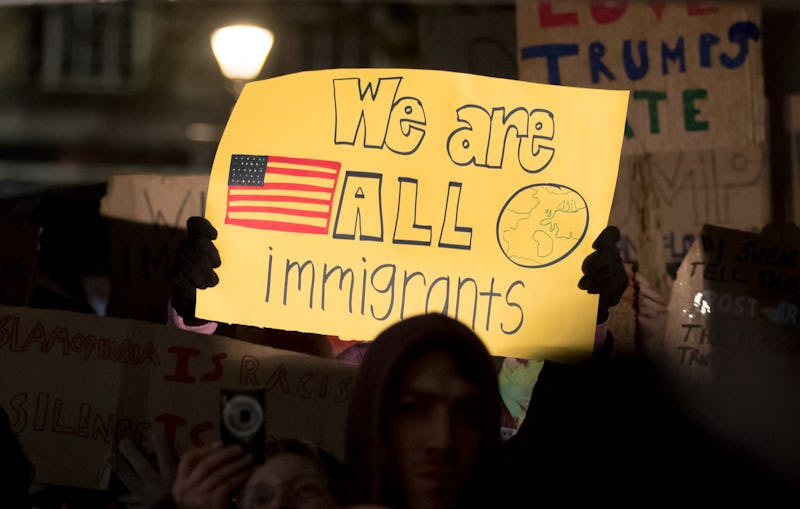 Matt Cardy/Getty Images News/Getty Images
If you're a book nerd who thought that Donald Trump's immigration order would not affect you, you're wrong. At least two authors won't return to the U.S. until the it is lifted, and more may soon join them, which just goes to show you that not all heroes wear capes.
In a Sunday tweet, Noble Conflict author Malorie Blackman said, "Thank you to all those who have invited me to various US lit fests/events but I won't be visiting the US any time soon [sic]." Blackman's tweet came in response to news that the White House was considering forcing foreign visitors to hand over their phones and name contacts, social networks used, and websites visited. The author later clarified that she had not "been inundated with US lit fest attendance requests," suggesting that her rejections were few. But even turning down a small number of U.S. appearances is a significant sacrifice for a writer, and constitutes a huge demonstration in solidarity.
Blackman isn't the only writer refusing to return to the U.S. until the immigration order ends. On Tuesday, Reasons to Stay Alive author Matt Haig tweeted to say that he was "[c]ontemplating a follow up ... called Reasons to Punch a Fascist [sic]." Haig tells The Guardian:
It just seems like a lack of solidarity at this present moment to go on holiday there with the ban in place. ... I think writers, by their nature, can be very good at writing and tweeting about politics, but it doesn't often translate into action. Now I think everybody feels a need to act.
A third writer, His Dark Materials creator Philip Pullman, says he is "fully in sympathy with Malorie's decision," adding: "I might well decide the same way myself if I had a journey forthcoming."
If you were counting on seeing any of your favorite foreign authors in the U.S. anytime soon, you might want to rethink your plans.