'Bachelor' Stars Who Don't Think Nick & Vanessa Will Last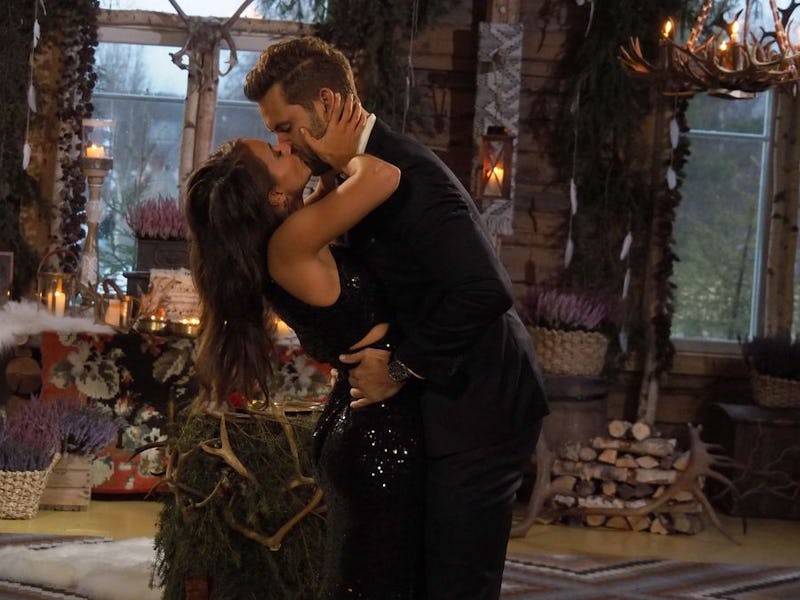 Terhi Tuovinen/ABC
When you're a fan of The Bachelor, you have to get used to heartbreak. For a show all about finding that perfect relationship, so many of the stars and their final rose winners never make it down the aisle, and I'm a little worried the newest Bachelor couple might not last either. It hasn't been long since Nick Viall and Vanessa Grimaldi officially announced their engagement, and there's already a lot of doubt that things will work out — even from fellow Bachelor alum who have been there before. There are Bachelor stars in happy relationships out there who aren't buying Nick's new relationship, and it's pretty easy to see why.
Aside from the fact that most Bach relationships come with an expiration date, there are a few factors working against Nick and Vanessa, like the major distance between their hometowns and how awkward their After The Final Rose appearance was. And if those who have been through the same process and survived it with their relationship intact don't believe that Nick and Vanessa can make it, I'm almost inclined to believe them.
Here are a few happy Bachelor couples who aren't convinced this relationship will last. Here's hoping they're wrong!
Trista & Ryan Sutter
The first Bachelorette and her long-time husband took to Twitter after the finale to express their concerns about Nick and Vanessa's future together. If anyone is going to have a solid opinion on a Bachelor romance, it's these two, who have managed to make it work for so long, so that makes me a little worried. Maybe they're picking up on something that isn't there?
Jade Roper
Seems like Jade definitely picked up on the awkwardness of After The Final Rose. She's done her share of live Bachelor-related appearances since she first appeared on The Bachelor two seasons ago, so she knows what they're like. That's why her opinion is so valid here, and I'm afraid the weirdness is going to bleed out into Nick and Vanessa's real life together.
Sean Lowe
Um, yeah... you could say that this former Bachelor star isn't exactly supportive, even though he was in Nick's exact situation not too long ago when he first got engaged to his wife, Catherine. Sean hasn't commented on Nick and Vanessa as a couple specifically, but this tweet says it all. Take it with a grain of salt, though — Sean's been known for his snark during Nick's season.
After everything he's been through over the last couple of years, Nick deserves a happy ending, so my fingers are crossed that these stars' predictions are wrong. Time will tell.