These Before & After Photos Of The California Wildfires Are Absolutely Devastating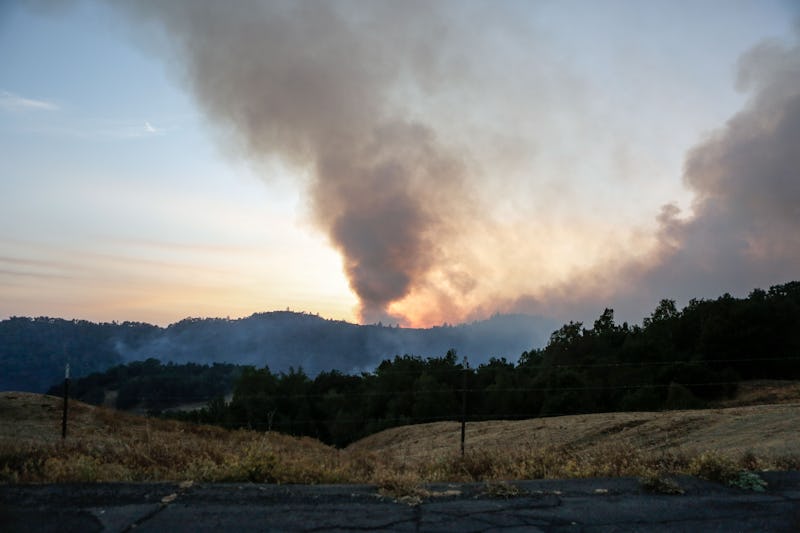 AMY OSBORNE/AFP/Getty Images
More than a dozen lives were lost in the most recent wildfires in California, according to authorities. The fires began on Sunday and ravaged the area for nearly three days, according to official reports. Words don't always convey the gravity of a situation, since it's hard to fathom just how destructive the flames were. But photos of the California wildfires offer us a glimpse into the chaotic blazes. And it's terrifying, to say the least.
Planet, a website created in 2010 by former NASA researchers and scientists, offered a glance at the wildland fires in their recent post shared on Tuesday. "A state of emergency for Napa, Sonoma, and Yuba counties has been declared as more than a dozen wildfires rage across Northern California," the website read. "In response, we are making our satellite data available to everyone that needs it."
"Planet is making imagery of regions affected by these fires available for use by the public, first responders and aid providers, and media," it added. The website's images focuses on destruction in Santa Rosa and Napa but before-and-after images shared on networks like Twitter depict other parts of the state. Here are just a few of them.
1. Smoky Hills In Napa
Satellite imagery from Planet showed smoky hills in Napa from the beginning of the fires.
2. Scarred Woodland In Napa
In the second image, high-resolution definition in false colors revealed "burn scars (dark gray) and unburned woodland (bright red)" according to Planet.
3. Santa Rosa's Coffey Park
Santa Rosa's Coffey Park took a particularly stunning hit as the area seemed to turn to ash after the wildfires.
4. California Wine County Damage
This clip shows how the fires entirely destroyed the front of a building in California wine country. The green shrubbery is completely gone.
5. Cloverdale Before Smoke
Planet shared imagery of Cloverdale before smoke engulfed it.
6. Cloverdale After Smoke
The after image of Cloverdale from Planet's website shows menacing smoke covering almost all of the area.
7. Santa Rosa Damage
This photo by Gabrielle Lurie of Santa Rosa after fire covered a residential area is surreal.
8. Hilton Sonoma Wine Country Hotel
Peter DaSilva's photo of a Hilton hotel in Sonoma wine country showed fire eating up the building, leaving its skeleton behind.
9. Wedding In Napa
One user reported that he had been in Napa to attend a wedding. In the before image, you can see a clear and blue sky. In the after images, wedding attendees can be seen looking at the growing fire.
10. Smoke In The Air
Before and after imagery from this user showed how a calm sky became riddled with smoke.
11. Cardinal Newman High School In Santa Rosa
Cardinal Newman, a high school in Santa Rosa, seemed to have been utterly destroyed by the wildland fires.
12. Santa Rosa Street View
A before-and-after comparison of a street in Santa Rosa showed how almost everything was reduced to ashes except a lone traffic pole.
Some might be wondering how exactly such powerful and heart-stopping fires even begin. It varies case by case, according to reports. In this particular instance, the Sunday wildfires are still being investigated. Sometimes fires can be caused by a strike of lightning, which is further exacerbated by the presence of arid conditions on-ground, lack of humidity, strong winds, and heated earth.
Other times, the fires are caused by man-made circumstances like a flicked cigarette on the ground, spot fires caused by a lit match or poorly exhausted campfire, or simple arson. According to Ken Pimlott, the director of California's Forestry and Fire Protection Services, the cause of the fires that started on Sunday and went on till Tuesday is being determined, but the likelihood of them being caused by lightning was "fairly minimal."