Fans Are Sticking Up For Beyoncé After New Pregnancy Rumors Are Unfairly Judging Her Body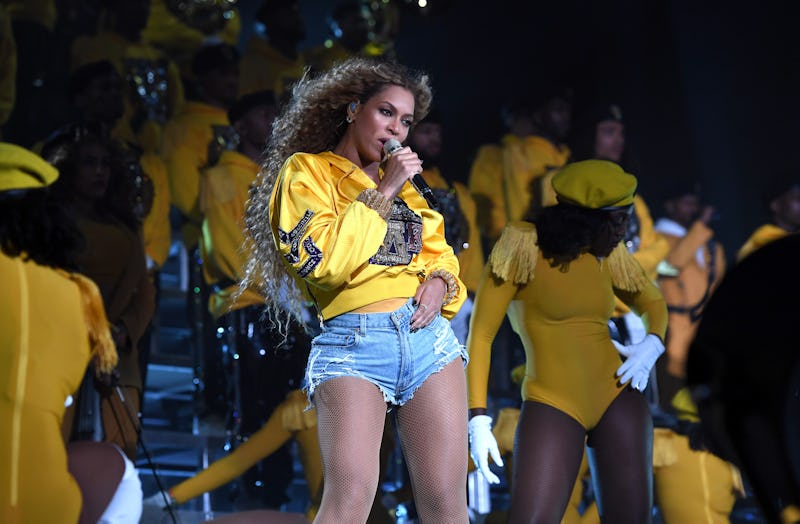 Larry Busacca/Getty Images Entertainment/Getty Images
Fresh off the heels of her twins' first birthday, Beyoncé is already facing pregnancy rumors — again. Some people on Twitter are using dubious clues to suggest the "Formation" singer is pregnant, and honestly, the guessing game needs to stop. Luckily, there are at least some fans that have Bey's back. (Bustle reached out to Beyoncé's rep for comment on the pregnancy rumors, but did not receive an immediate response.)
On Friday, The Cut pointed out that tabloids including Star have provided various reasons as to why Queen Bey might be pregnant. According to Celebitchy, Star's sources claimed that doctors were checking Beyoncé's vitals before she went on stage during a recent On The Run II tour performance. Whether or not this is true is one thing, but even if it is, consulting a doctor hardly means someone must be pregnant.
Whether or not Beyoncé is pregnant, though, is beside the point. The speculation is only the latest in what seems like a never-ending string of people needlessly scrutinizing women's bodies. It's sexist, and frankly, it's tired. The constant discussion about whether or not famous women are pregnant invites the general public, time and time again, to study these women's bodies for any potential "clues." Famous or not, if someone's pregnant, it's up to them to decide when to share that news with other people — if at all. It doesn't do anyone good to keep guessing about what's going on.
Fortunately, a number of Beyoncé fans saw that, and they tried to shut the pregnancy debate down on Twitter.
As for the supposed "clues" about Beyoncé's pregnancy, other than the supposed meeting with a doctor, the other reported signs are just as nebulous. Some Twitter accounts are sharing photos that purportedly show a baby bump, but they're a stretch. It may just be the way she's standing, and even if it isn't, well, women shouldn't have to explain why their bodies look a certain way.
Other so-called "clues" include the fact that Beyoncé's worn jackets during the On The Run II tour, and that one of her tour outfits featured a small heart on the stomach. Oh, and the fact that because Beyoncé and JAY-Z like the number four, they must want four kids. The heart detail is the most compelling piece of "evidence," but it's still hardly a confirmation of anything.
If Beyoncé and JAY-Z really do have happy news to share, they'll reveal it when the time is right for them. Until then, fans should leave the singer alone and stop the speculation. Beyoncé is killing it on tour, and she doesn't owe anyone an explanation about her personal life. Fortunately, the fans arguing against people spreading the rumors are reminding everyone that this type of behavior isn't OK.
Other celebrities, including Rihanna, have faced similar unfair scrutiny over their looks. After Rihanna's performance at the 2018 Grammy Awards in January, some people suggested that Rihanna looked pregnant during her performance. And even before that, Rihanna was body-shamed because she'd appeared to gain weight. In true Rihanna fashion, the singer seemingly responded to the discussion by sharing a meme about Gucci Mane. She later told The Cut last October that she has "the pleasure of a fluctuating body type." Her words effectively shut the body-shaming conversation down. Most people aren't confident in themselves 100 percent of the time, but her words are a good reminder that no one body type is better than another.
Speculating about whether or not a woman is pregnant can be construed as body-shaming, and there's honestly no reason for it. If Beyoncé really is pregnant, she'll share the news with fans in due time. If not, there's no point in analyzing her tour outfits for "clues" in the meantime.