Fans Are Speculating That Kendall's Pregnant & The Baby Rumors Have Officially Gone Too Far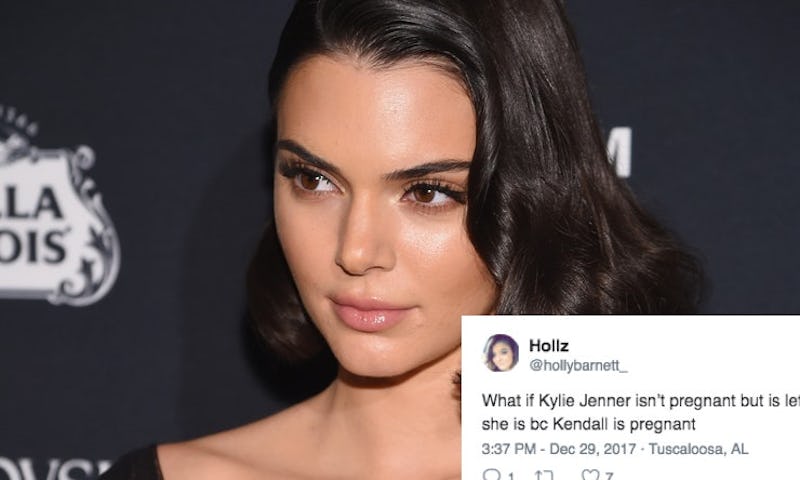 Dimitrios Kambouris/Getty Images Entertainment/Getty Images; hollybarnett_/Twitter
Another day, another baby rumor about a member of the Kardashian-Jenner family. And no, this time it's not about Kylie. Instead, rumors that Kendall Jenner may be pregnant began to spread on social media on Friday and Saturday after the supermodel posted a selfie wearing a polka dot dress. The speculation feels wrong for multiple reasons — namely because the commentary is based on people overanalyzing her stomach size.
UPDATE: On Saturday night, Kendall responded to the pregnancy rumors on Twitter with a flawless reply. Shutting down the speculation, she quoted a tweet from MTV Australia about the situation and wrote,
"i just like bagels ok!!!"
Mystery solved, everybody. And hopefully now the body-focused chatter can get put to rest.
EARLIER: While Kendall has yet to comment on the circulating rumors, the headline "Is Kendall Jenner Pregnant Too? See Why Fans Are Convinced She's Expecting Like Her Sister" popped up on Hollywood Life, while Daily Mail published a similar story. Of course, these publications didn't seemingly ask the question out of nowhere — it's because comments under the selfie Kendall shared range from "R u pregnant too" to "OMG SHES PREGNANT." There were cry-laugh emojis, along with some even going as far as to call her "fat." And on Twitter, the commentary continued — with some speculating she could be pregnant instead of her younger sister Kylie. (For what it's worth, Kylie still has not confirmed the baby rumors surrounding her since September.)
Here's the thing: Kendall hasn't come out and said she's expecting, nor have any official sources. There's not even "an insider close to the family" that's spoken about it and pushed the rumor further. Instead, the spotlight seems to be so closely focused on the 22-year-old and her relatives that people will jump at any chance to speculate. Analyzing someone's body and judging the size of her stomach is not acceptable behavior, no matter who the individual is — whether it's a stranger on line in front of you in the grocery store, or a star on Keeping Up With The Kardashians. It's just one more way that society polices women's bodies. And just because Kendall is a public figure on a reality show, it doesn't mean she doesn't deserve respect or privacy.
Compared to her sisters, Kendall is definitely more reserved. She's not constantly documenting her life on Snapchat, narrating every single detail. In fact, she recently announced she's ending her app in 2018 to focus on other priorities. In a statement on her site earlier this week, she wrote,
"As I look ahead to the next year, my goals and priorities are changing. I've had an incredible 2+ years connecting with all of you, but I've made the difficult decision to no longer update my app in 2018. I hope you've enjoyed this journey as much as I have, and am looking forward to sharing the next chapter with you. Love, Kendall."
Sure, she has plenty of things on her plate, but that does not mean one of them is having a child. However, considering her sisters Kim and Khloé Kardashian have confirmed they're expecting babies in the new year, it looks like Kendall's aunt duties will double — or even triple, if the rumors surrounding Kylie are true.
It may even be because of all the rumors surrounding Kylie that fans are so quick to speculate about Kendall. Kris Jenner's youngest daughters are inseparable, even having their own clothing line together. But that also doesn't mean that just because one is doing something, the other has to follow.
Still, not everyone on Twitter was hopping on the bandwagon and spreading rumors. Others stood up for Kendall and pointed out the ridiculousness that was occurring over the supposed size of her stomach.
As that last tweet points out, the fact that people either conclude Kendall is "fat or pregnant" is utterly unfair — and even verges on offensive. Kendall should be able to post a photo of herself without everyone's eyes zooming in on her body shape. And if she was pregnant, now or in the future, it goes without saying that there's nothing wrong with that; it's just the jumping to conclusions based on a selfie that feels misguided.
Even though the rumors about Khloé ultimately wound up being true, people also unfairly looked for any chance of a baby bump in her photos until the official reveal. But as Khloé pointed out in her own pregnancy announcement:
"I know we've been keeping this quiet but we wanted to enjoy this between our family and close friends as long as we could privately. To enjoy our first precious moments just us"
If any other members of the Kardashian-Jenner crew are actually pregnant, they should be able to share the good news on their own terms and when they're ready — not because the internet forces it out of them. It's already bad enough that people are looking for any and every opportunity to spot a glimpse of Kylie's rumored baby bump.
So let's leave Kendall alone — and while we're at it, stop scrutinizing women's bodies in general.