These Protest Signs At Kavanaugh's Confirmation Sent A Crystal Clear Message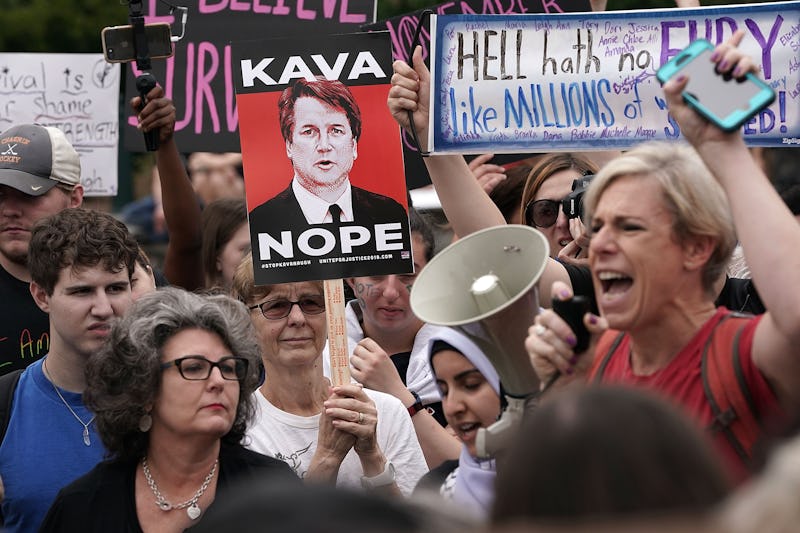 Alex Wong/Getty Images News/Getty Images
Following weeks of chaos and controversy, the Senate voted to confirm Brett Kavanaugh to the Supreme Court on Saturday. The confirmation vote took place as thousands of protesters gathered outside Capitol Hill to protest Kavanaugh. Many carried a range of signs; some declared simply, "Believe Survivors," while others criticized Kavanaugh for his emotional and partisan testimony before the Senate Judiciary Committee the week before.
A lot has happened over the past few weeks. California professor Christine Blasey Ford spoke to The Washington Post on Sept. 16, publicly accusing Kavanaugh of sexually assaulting her when they were teenagers. Kavanaugh categorically denied the allegation as false. Later on, two more women came forward to accuse him of sexual assault — allegations that he again denied.
On Sept. 27, both Ford and Kavanaugh testified before the Senate Judiciary Committee about her allegation. The hearings led to an even more bitter confirmation fight. Nine days later, the Senate voted 50-48 to confirm Kavanaugh to the Supreme Court.
On the day of his confirmation vote, protesters in Washington, D.C., gathered on Capitol Hill carrying different signs. In the photo below, a protester quoted former president John F. Kennedy from one of his speeches.
"The hottest places in hell," Kennedy said, "are reserved for those who in time of moral crisis preserve their neutrality." Prior to the Saturday protests, activists took to the Hart Senate Office Building on Thursday for the #CancelKavanaugh march.
"A woman brought you into this world," another protester's sign read, "and women will vote you out."
While protesters chanted against Kavanaugh, his supporters — including President Trump — praised him on Twitter. In a tweet shortly after the confirmation vote ended, Trump tweeted, "I applaud and congratulate the U.S. Senate for confirming our GREAT NOMINEE, Judge Brett Kavanaugh, to the United States Supreme Court. Later today, I will sign his Commission of Appointment, and he will be officially sworn in. Very exciting!"
On Saturday morning, Trump had expressed optimism about Kavanaugh's vote. "Women for Kavanaugh and many others who support this very good man, are gathering all over Capitol Hill in preparation for a 3-5 P.M," he wrote on Twitter. "VOTE. It is a beautiful thing to see - and they are not paid professional protesters who are handed expensive signs. Big day for America!"
Protesters, on the other hand, lambasted Kavanaugh. In the tweet above, a protester said that she was on her way to Capitol Hill, adding that "we will not sit by silently."
In many instances, Kavanaugh's surname was given the activist spin of "Kava-no" and in one case, a protester could be seen carrying a "dump him" sign against the SCOTUS nominee.
Not one to hold back on Twitter, Trump also mocked the crowds on Saturday, tweeting, "The crowd in front of the U.S. Supreme Court is tiny, looks like about 200 people [and most are onlookers] - that wouldn't even fill the first couple of rows of our Kansas Rally, or any of our Rallies for that matter!"
Attacking the press once again, the president added, "The Fake News Media tries to make it look sooo big, and it's not!" Just a few days before that, Trump mocked Ford's testimony about her sexual assault allegation in front of an audience in Mississippi.