Trump Feels "So Badly" That His SCOTUS Pick Is Dealing With A Sexual Assault Accusation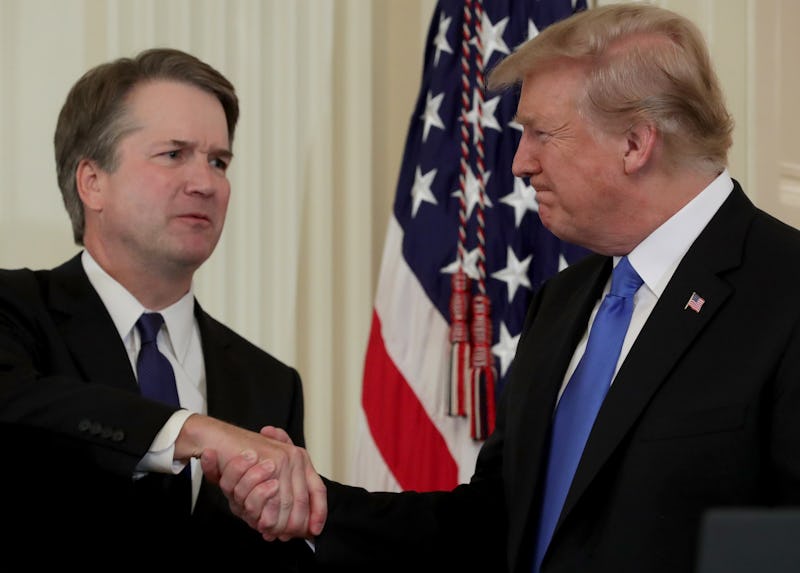 Chip Somodevilla/Getty Images News/Getty Images
As senators mull over confirming SCOTUS nominee Brett Kavanaugh amid accusations of sexual assault — which he's denied — the president has expressed sympathy for Kavanaugh. On Tuesday, Donald Trump said he felt "terribly" for Kavanaugh and his family after Christine Blasey Ford accused Kavanaugh of drunkenly attempting to force himself on her and trying to remove her clothes while they were teenagers at a party decades ago.
According to the Associated Press, the president said at the White House, "I feel so badly that he's going through this. This is not a man who deserves this." Describing Kavanaugh as "a great gentleman," Trump said California Democrat Sen. Dianne Feinstein — to whom Ford wrote in a letter requesting anonymity about Kavanaugh in July — should have addressed the allegations before the Senate confirmation hearings for the SCOTUS nominee started.
In response to the accusations leveled at him by Ford, Kavanaugh issued a statement via the White House. In it, he said, "I categorically and unequivocally deny this allegation. I did not do this back in high school or at any time."
Initially, Ford told The Washington Post that she did not plan on coming out publicly to accuse Kavanaugh. In July, she reached out to California Rep. Anna Eshoo after she realized that Kavanaugh may become Trump's next Supreme Court nominee. She also wrote the aforementioned letter to Feinstein while asking her not to reveal her identity, according to The New Yorker. It was a promise that, the newspaper reported, Feinstein kept.
In September, just a week before the Senate Judiciary Committee was to vote on Kavanaugh's confirmation, Feinstein addressed the letter without revealing Ford's identity. "I have received information from an individual concerning the nomination of Brett Kavanaugh to the Supreme Court," the senator said.
"That individual strongly requested confidentiality, declined to come forward or press the matter further," she added, "and I have honored that decision. I have, however, referred the matter to federal investigative authorities."
Up until late August, Ford chose to remain anonymous. In a Sunday interview with The Washington Post, she said her story had leaked to the media regardless, and she noticed incorrect details in their reporting. "These are all the ills that I was trying to avoid," Ford told The Post on Sunday. "Now I feel like my civic responsibility is outweighing my anguish and terror about retaliation."
Now, Senate Judiciary Committee Chairman Charles Grassley said both Ford and Kavanaugh have been called on to testify in public hearings about the alleged incident. Issuing a renewed denial on Monday, Kavanaugh said, "This is a completely false allegation. I have never done anything like what the accuser describes — to her or to anyone. Because this never happened, I had no idea who was making this accusation until she identified herself yesterday."
"I am willing to talk to the Senate Judiciary Committee in any way the committee deems appropriate to refute this false allegation, from 36 years ago, and defend my integrity," Kavanaugh added.
The president's glowing praise for Kavanaugh is no surprise, though. Before he called him a "great gentleman," Trump said that the SCOTUS nominee was an "outstanding" judge with an immaculate professional record.